1st XI vs Muir College
On Friday our 1st XI played their last game for the season in a 50 over day night game against Muir College.
This was also a very special occasion as two of our boys received their 50th cap, Trevor Moos and Luke Mc Naughton.
Muir won the toss and elected to bat. Union put on a wonderful display of bowling and fielding with Luke Mc Naughton taking the lead with the ball backed up by some wonderful sharp fielding that lead to a game changing run out. Unio…n managed to keep the runs to a minimum and kept taking wickets at regular intervals and managed to bowl Muir out for 127.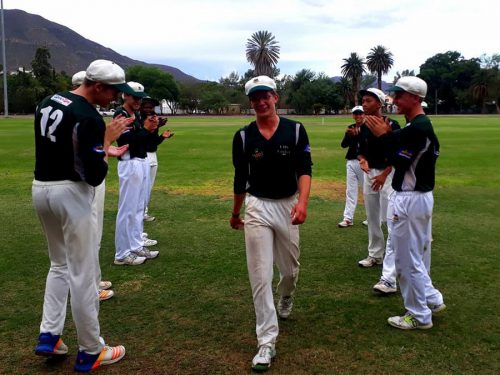 Bowling performances:  Luke Mc Naughton 5 for 42 in 10 overs;  Brett Amsterdam 2 for 17 in 8 overs;  Caerwyn Spence 1 for 10 in 6 overs;  Lunga Zantsi 1 for 25 in 3 overs.
Union went in to bat and what ended up being a stop start beginning to the innings made things a bit tough at the start, however Trevor Moos and James Pringle put together the perfect 47 run opening partnership through very trying conditions to put us in a commanding position for the run chase. This allowed Brett Amsterdam, Luke Mc Naughton and Zusakhe Ngwane to bat with freedom and get us over the line with only 3 wickets down.
This was really a clinical performance from Union who were always in control and was wonderful that Luke and Trevor rose to the occasion and put together two wonderful performances in their 50th game.
Batting performances:  Brett Amsterdam 37 not out;  Trevor Moos 24;  Luke Mc Naughton 19;  James Pringle 17;  Zusakhe Ngwane 9 not out.
Union won the match by 7 wickets
Congratulations to Luke McNaughton and Trevor Moos who both received their 50th cap from Mr Pringle before the day/night game against Muir College today.
1ST XI vs Nico Malan CSA national T20 competition
On Saturday Union 1st XI played against Nico Malan in the CSA National T20 competition at Grey High School.
Nico Malan won the toss and sent Union in to bat. Union got off to a reasonable start but struggled to put together a meaningful partnership and kept losing wickets at regular intervals. This unfortunately lead to us only scoring 103.
Batting performances:  Zusakhe Ngwane 16;  Brett Amsterdam 14;  Jayden Brotherton 13;  Bowen Langmead 12;  Caerwyn Spence 12.
Nico Malan went in to bat and Union fought hard with the ball and in the field and had Nico Malan 48 for 5. However 103 proved a tough target to defend even though the game ended up going right down to the wire. In the end it was a great game of cricket and very exciting to watch. If Union could have capitalized on one or two chances the result could easily have been different.
Bowling performances:  Jayden Brotherton 2 for 14 in 4;  Lihle Mxhunyelwa 2 for 19 in 3;  Brett Amsterdam 1 for 17 in 3;  Trevor Moss 1 for 28 in 3
Even though he did not take a wicket, Caerwyn Spence bowl two excellent overs in the heat of the game which only went for 7 runs.
Union lost he match by 3 wickets
UHS 2nd Cricket vs Muir
UHS won the toss and elected to bat first in this 40 over match. James Pienaar 32, William Kayster 22, Khwezi Simon 16*, Matthew Hesselink 13 and Josh Calitz 10 contributed to a score of 131 all out in the 25th over.
Muir replied with a score of 138/6 in the 28th over. Best bowling figures were Jarrod Naude 2/28 and Matthew Hesselink 2/38.
No significant run partnership, not batting out our overs and a dropped catch put us under pressure in defending the low score posted.
UHS lost this match by 4 wickets.
U/15A vs Muir College
On Saturday our Colts played at Botanics against Muir College in a 40 over match. Muir won the toss and asked us to bat first. Union lost some quick wickets upfront through poor shot selection and a lack of patience. Kwande Mhlabeni and Matthew Basson consolidated for a brilliantly played 70 run partnership. With a lapse in concentration we lost our last 6 wickets for only 39 runs. Union made 139 all out in 31.3 overs.
Top batsmen:  Kwande Mhlabeni 42;  Matthew Basson 39;  Sisipho Arnols 15.
The Union bowlers struggled to bowl a good line and length. As a result failed to put the Muir batsmen under pressure. Missed chances didn't help us. Muir passed our score in the 31st over having lost only 5 wickets.
Top bowlers:  Laython Carelse 3 for 28 in 8 overs;  Daniel Nell 1 for 16 in 3 overs;  Hlakinipha Skepe 1 for 34 in 7.2 overs.
Union lost the game by 5 wickets.