After a successful outing at the B-age group gala on Saturday, nine of our more determined swimmers stayed over in PE to take part in the 95th Spar Sunday's River Mile on Sunday, 17 February as well.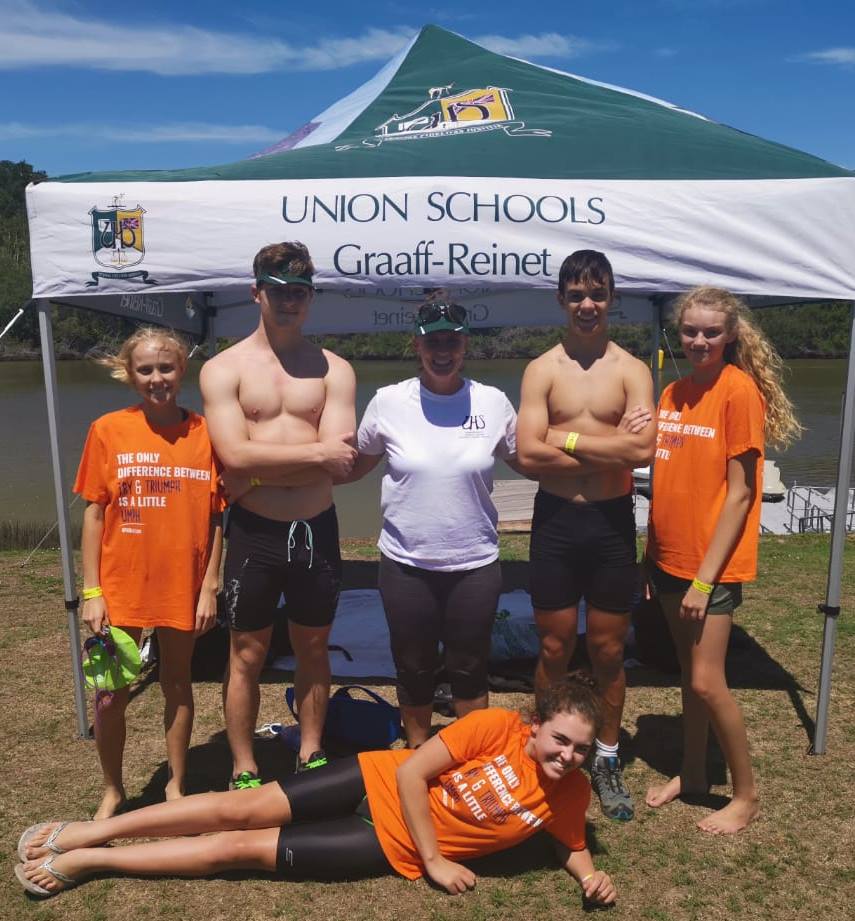 While the swim last year was exceptionally tough, the excellent conditions this year saw the swimmers slashing their times with an average of around 15 – 20 minutes all round.
As the incoming tide started pushing through, a field of 214 ladies took to the water in a flurry of splashing limbs. Following up on her success from last year, Hannah Bodenstein was our first female swimmer home in a spectacular time of 20 minutes and 20 seconds.  Hot on her heels was Amber Binney who crossed the finish line a mere 2 seconds later, despite sustaining a gash to her foot in the process.  Drew Dobinson followed shortly after with a time of 23 minutes, with Kelly-Page Scott, Brigette Oelofsen and Elia Railton all exiting the water in under 25 minutes.
The perfect conditions held as the group of 237 men began their race. The pushing tide helped the swimmers set a blistering pace and our 3 boys completed the race in good time; all crossing the finish line in under 25 mins.  Mack Rubidge powered through the course in an incredible 18 minutes, while Damon Fouche and Schea Johnson finished in 23 and 24 minutes respectively.
It is always wonderful to see our learners representing our school so well in events of this nature and they must be commended for their fine efforts this weekend despite the hefty academic workload that is synonymous with this time of term. Thank you all for your dedication.
IT WAS WONDERFUL TO SEE UNION BEING SO WELL REPRESENTED AT AN EVENT OF THIS STATURE, AND IT WAS ENCOURAGING TO NOTE THE EAGERNESS WITH WHICH ALL THE FIRST-TIMERS COMPETED. WELL DONE TO THEM ALL.