Celebrating 12 years of togetherness
In 2008, a group of 32 Grade 1s started their school careers at Union Preparatory School.
For the following twelve years – as they went from prep school, to middle school, to high school – they learned together, laughed together, played sport together and had a lot of fun together, sharing life's ups and downs as they went along
To celebrate this memorable 12-year journey, the UPS Grade 4 class hosted the annual A to 10 Dinner on Thursday evening, 10 October.
The A to 10 Dinner, held especially in honour of learners who have spent their entire school careers at Union, is one of the great traditions at Union, and always a very special occasion.
To start the evening, the Grade 4 learners welcomed the matrics and their parents and escorted them into the UPS Dome, after which all were entertained with song and dance, with the main event certainly being the different versions of the dozi-do dance.
As always, the A to 10 Dinner was filled with fun, lots of laughter and to end the evening, a beautifully prepared dinner in the Tony Burrell Union.
Here are the 2019 matrics who got to attend it along with their Old Unionite parents: (back) Peter Watermeyer, Sharon Shell, Kevin Watermeyer, Christine Harris, Helen Harris, Caerwyn Spence, Trenley Spence, Chinelle Marais, Beaver Hobson, Ryan Hobson, (front) Gary Shell and Donné Marais.
This lovely photo (below) of Union's 2019 A – 10 Matrics standing in front of Union Preparatory School where their school careers began 12 years ago, was taken prior to the recent A – 10 Dinner.
They are: Rosslyn Sparks, Christine Harris, Micela Loock, Jenna Mcnaughton, Sabrina Potgieter, Donné Marais, Megan Doyle, Kirsten King, Lauren Carelse, Sisipho Swartz, Henzé Jaftha, Thembela George, Chelsea Theron, Zikhona Mbaile, Kiah Hoffman, Jada Smith, Sasha Bosch, Kay Koeberg, Ebben Johnston, Gary Shell, Cleathon Koeberg, Caerwyn Spence, Matteo Mahona, Bongi Johnson, Keanu de Klerk, Ryan Hobson, Ethan Gedult, Peter Watermeyer, Nöa Cilliers, Bladen Jacobs, Gregon Jenneke and Sergio Macpherson.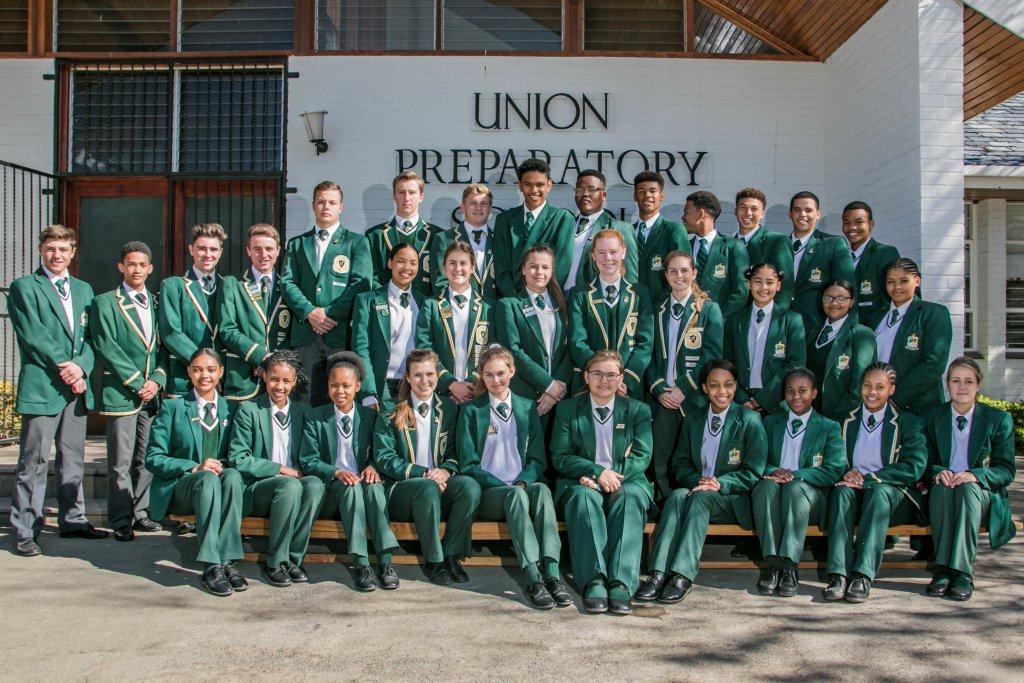 View more photographs on our Facebook page: https://www.facebook.com/unionhighschool/