Union High School is exceptionally proud of its rich tradition and reputation for sporting excellence on the cricket field.
The history of Union High School credits Mr Herby Arnott, a legendary headmaster at Union High School during the 1940s, '50s and '60s, with establishing cricket as one of the school's premier sports.
Having been a superior player himself, and with his firm belief in the value of cricket as an educational tool, Herby Arnott developed cricket at the school with vigour during his tenure as headmaster.
Ever since, the success of Union's cricket can be attributed to the legions of passionate players and coaches who have ensured that the greatest of games continues to flourish within the confines of Union's magnificent grounds.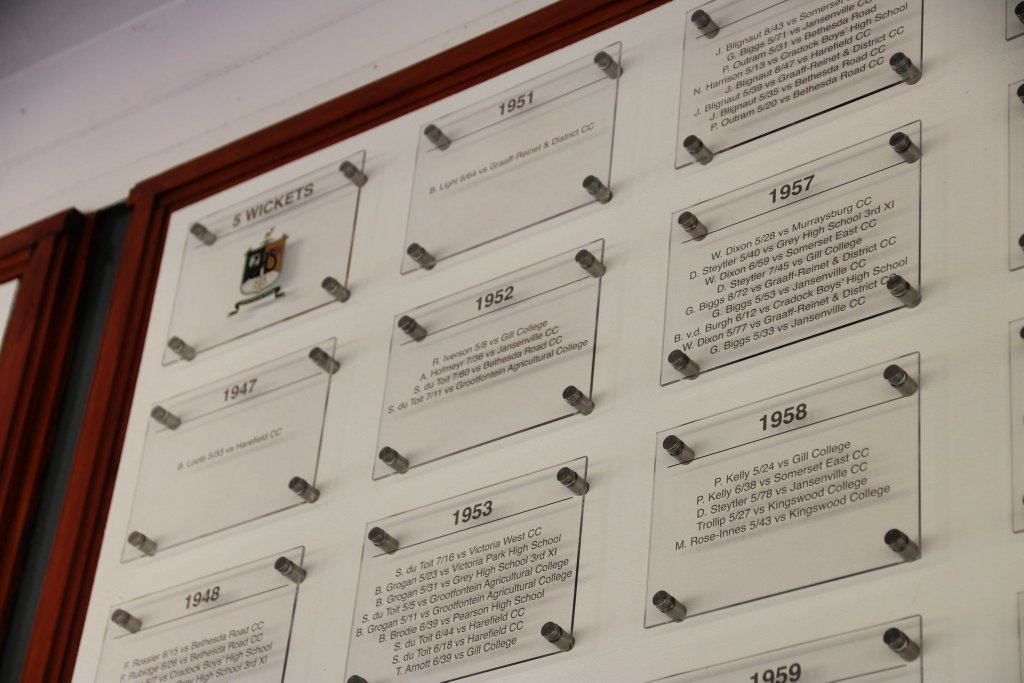 In honour of all these cricket players who have made the sport at the school what it is today, Union has erected a permanent reminder of the best batting and bowling performances in the history of the sport at Union.
Affixed to the walls of the Tony Burrell Union is a brand new permanent installation of cricket plaques celebrating all the centuries and five-wicket hauls made by Union's cricketers.
It is hoped that the installation, which was officially unveiled during the 2020 Founders' Weekend, will serve as an incentive for Union's cricketers to excel, and by so doing, earn themselves a lasting place in the history of Union's cricket – alongside some of Union's greatest players.
• Old Unionites, visitors, parents and the school's young cricketers are invited to have a look at the installation when next at the Tony Burrell Union – it truly provides a wonderful walk down memory lane.
• Any Old Boys who played the sport are also encouraged to let us know if a batting or bowling performance has been omitted on the installation. Send through any information pertaining to the above to uhsmarketing@unionschools.co.za