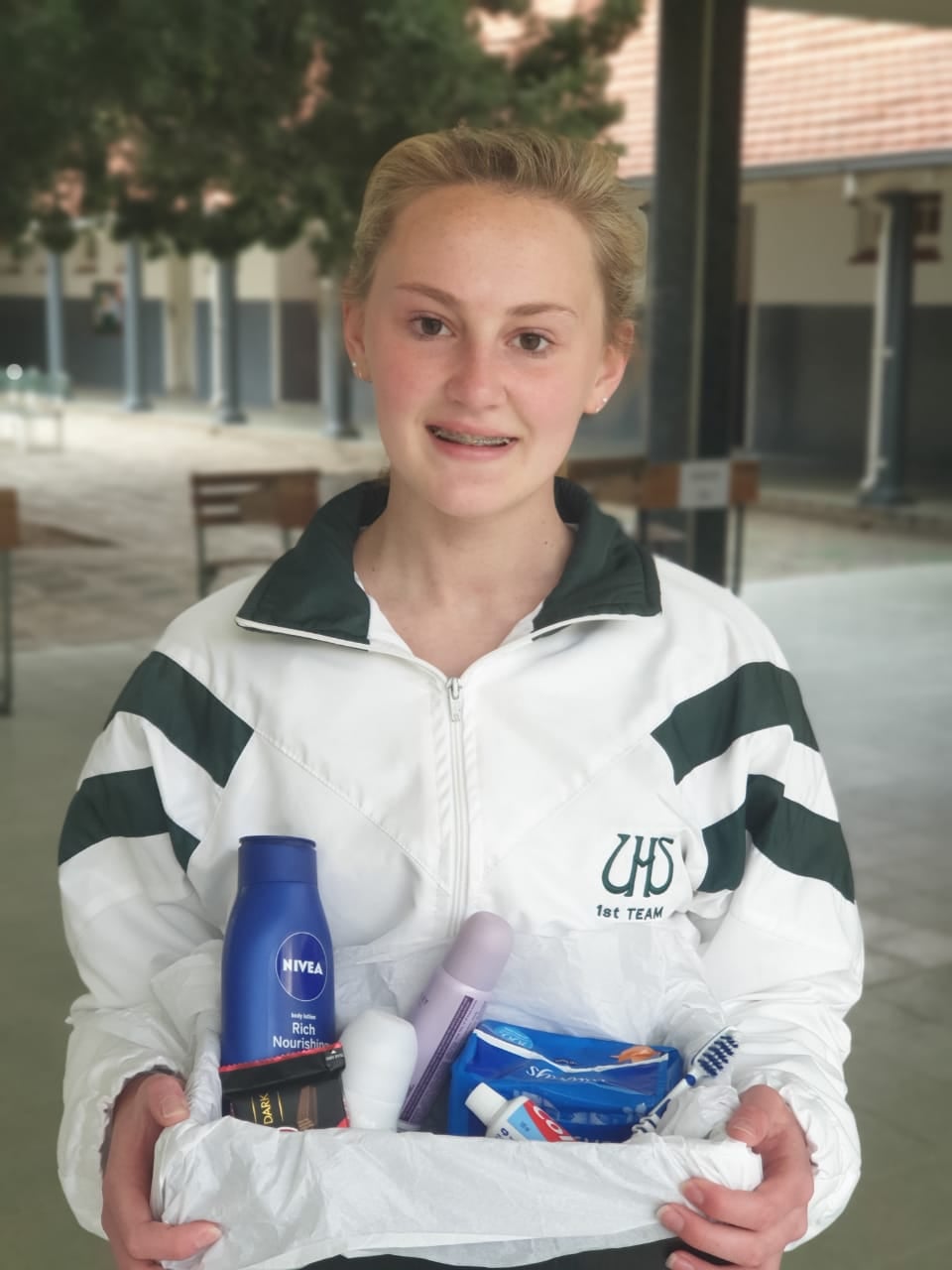 "The women in our community need to be reassured during these difficult times. We need to provide support and comfort to all those women in the Graaff-Reinet area who are struggling to let them know they are not alone."
This is the belief of Laetitia Theron, a Grade 12 learner at Union who was inspired by the recent Women's Month celebrations to reach out to the less fortunate in the community.
Laetitia, who serves as Deputy Headgirl and president of Union High School's RCL, has commandeered her fellow RCL members to help her drive a CARE-kit collection aimed at providing women in need with small boxes containing basic necessities.
"A small gift can be a powerful reminder for a woman that she has not been forgotten and that she remains a valued and respected member of her community," said Laetitia.
I want these boxes to be a source of comfort and hope for women in the midst of their battle. Our hope is that these boxes will brighten someone's day, put a smile on the lips of a woman who is struggling or just provide a much-needed pick-me-up."
The CARE-kits (which will be about the size of a shoebox) will consist of:
• Facecloth
• Bar of soap
• Feminine hygiene product
• Deodorant
• Lotion
• Toothbrush
• Toothpaste
• Chocolate
Each box will be accompanied by a small card, which will read: "𝘈 𝘣𝘦𝘢𝘶𝘵𝘪𝘧𝘶𝘭 𝘸𝘰𝘮𝘢𝘯 𝘥𝘳𝘢𝘸𝘴 𝘴𝘵𝘳𝘦𝘯𝘨𝘵𝘩 𝘧𝘳𝘰𝘮 𝘵𝘳𝘰𝘶𝘣𝘭𝘦𝘴, 𝘴𝘮𝘪𝘭𝘦𝘴 𝘥𝘶𝘳𝘪𝘯𝘨 𝘥𝘪𝘴𝘵𝘳𝘦𝘴𝘴 𝘢𝘯𝘥 𝘨𝘳𝘰𝘸𝘴 𝘴𝘵𝘳𝘰𝘯𝘨𝘦𝘳 𝘸𝘪𝘵𝘩 𝘱𝘳𝘢𝘺𝘦𝘳𝘴 𝘢𝘯𝘥 𝘩𝘰𝘱𝘦. 𝘠𝘰𝘶 𝘢𝘳𝘦 𝘰𝘯𝘦 𝘰𝘧 𝘵𝘩𝘦𝘮."
Union's RCL kindly request that the community considers donating towards this drive. Donations can be big or small, an individual item or an entire CARE-kit.
If you are unable to purchase these items you are welcome to make a donation and the RCL will purchase items that are needed for the CARE-kits.
Donations can be dropped off at Union High School's front gate in Donkin Street with Mrs Moos.
Those wishing to contribute, are asked to please do so before September 30th.
Those who would like to make a monetary donation, can EFT their contribution into the following bank account:
Account Name: UHS Clearing Account
Standard Bank
Account Number: 082528330
Branch Code: 050116
Please make sure to use 'RCL – CARE' accompanied by your surname as a reference.