One thing is certain: change is essential. Change means growth, progress and moving forward.
In what has been one of the most significant developments at Union High School in recent times, the school officially reopened its two boarding houses as co-ed establishments on Monday, 1 March 2021 – Herby Arnott House as a junior co-educational boarding house for Grade 5 to 7 learners and Arthur Kingwill House as a senior co-educational boarding house for Grade 8 to 12 learners.
Herby Arnott House has served the school as its girls' hostel since 1959 when it was built. Arthur Kingwill House, in turn, has served as the school's boys' hostel since its construction in 1953. As of this week, these two boarding establishments now offer Union High School's boarders a modern, vibrant and age-appropriate co-ed experience.
Combined, the Union Preparatory School and Union High School now offer three co-educational boarding houses:
• Max Kroon House for the Grade 1 to 4 learners;
• Herby Arnott House for the Grade 5 to 7 learners and;
• Arthur Kingwill House for the Grade 8 to 12 learners.
At Union, we pride ourselves on providing our boarders with a safe and supportive environment and believe that the restructuring of our boarding establishments as co-educational houses will have many benefits for our learners, not least the further development of the family atmosphere for which Union is rightly proud, but it will also serve to provide a mutually supportive environment for both boys and girls to live and work together and learn from each other.
All three houses have separate boys' and girls' wings with spacious common rooms, game rooms and extensive grounds and sports facilities that provide the necessary break-out spaces for busy and active children.
An experienced and dedicated team of boarding staff creates a warm and caring atmosphere across all three boarding houses, offering round the clock support to ensure the learners feel at home.
Each house has been structured in such a way that if offers its boarders a comfortable home-away-from-home where they can feel a sense of belonging, make friends and enjoy their school years fully immersed in Union's vibrant campus life. This enables learners to flourish at a time in their life when they are making great leaps in their academic, physical and emotional development.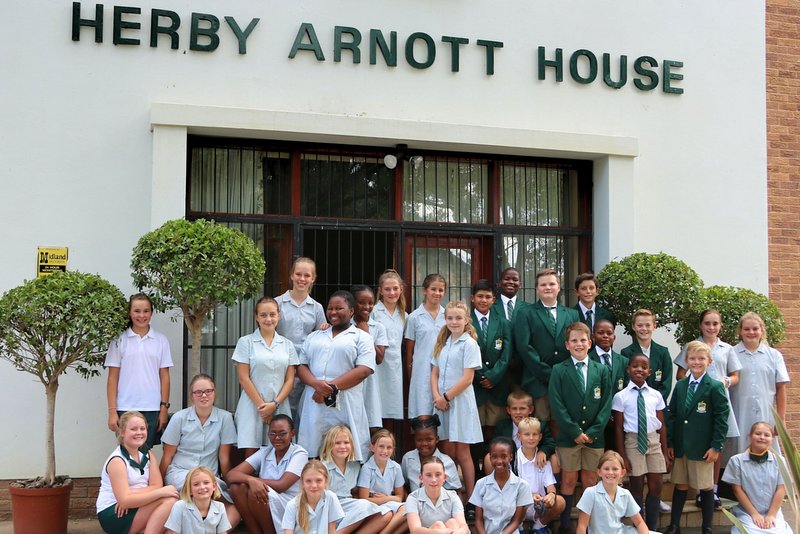 Seen here is our very first group of Grade 5 to 7 boarders to reside in Union's new junior co-educational boarding establishment at Herby Arnott House.