𝗟𝗲𝗮𝗿𝗻𝗲𝗿𝘀 𝗲𝗻𝗴𝗮𝗴𝗲 𝗶𝗻 𝗵𝗲𝗮𝗹𝘁𝗵𝘆 𝗶𝗱𝗲𝗮𝘀 𝗮𝗻𝗱 𝗱𝗲𝗯𝗮𝘁𝗲𝘀 𝗮𝘁 𝗻𝗲𝘄 𝗣𝗵𝗶𝗹𝗼𝘀𝗼𝗽𝗵𝘆 𝗖𝗹𝘂𝗯
A new club was created at Union High School this year – and it's definitely making people think.
The 𝗣𝗵𝗶𝗹𝗼𝘀𝗼𝗽𝗵𝘆 𝗖𝗹𝘂𝗯 will see participants getting together every two weeks to discuss numerous thought-provoking topics, that vary from the metaphysical to the pragmatic, including, but not limited to, morals, perception, love, emotions and different views of reality.
The club was created by Grade 12 learners, Max Wright and James Rose-Innes, who were inspired by a recent donation of a 'THINK Table' to the school by Old Unionite, Mr Adrian Arnott.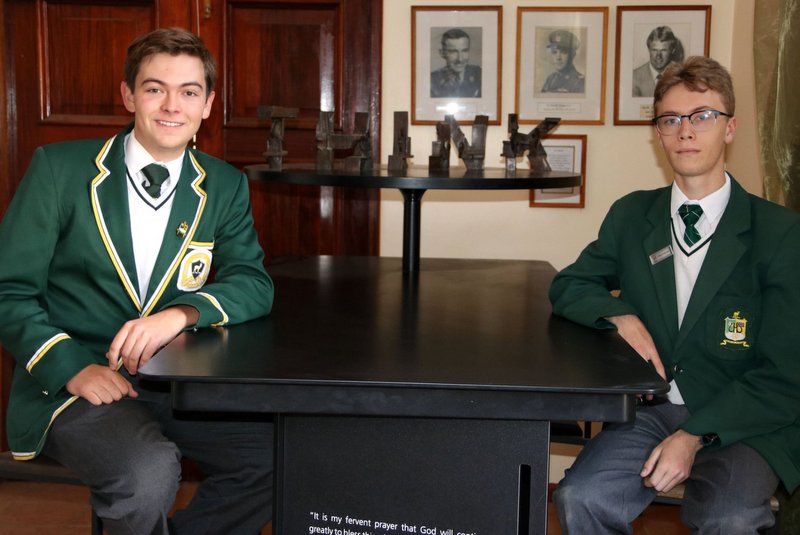 Mr Arnott gifted the school with this extraordinary thought-provoking table in order to promote a culture of 'deeper thinking' at the school.
The idea behind it certainly took root and led to these two matric learners, who found the idea of developing often unvoiced ideas discovered in other classes too appealing to be ignored, establishing a forum for the free expression of thought and speech, where learners can have fun while having the space to explore ideas.
At its inaugural meeting on Tuesday afternoon, 9 March, it already boasted 14 members who delved right into the first topic up for discussion – a classic thought experiment known as the trolley dilemma, developed by philosopher Philippa Foot in 1967.
The trolley dilemma is a thought experiment about a fictional scenario in which an onlooker has the choice to save 5 people in danger of being hit by a trolley, by diverting the trolley to kill just 1 person. The term is often used more loosely with regard to any choice that seemingly has a trade-off between what is good and what sacrifices are "acceptable," if at all.
The philosophical discussion that ensued generated a wealth of rich and meaningful conversation among the learners present and allowed the learners to think through the consequences of an action and consider whether its moral value is determined solely by its outcome.
Any learners that are interested in expanding their perspectives, joining in conversations that challenge opinions and sharing their insights are encouraged to attend the Club's next meeting on Tuesday evening, 23 March, at 17:00 in the Union High School Hall.