"𝘛𝘰 𝘭𝘪𝘷𝘦 𝘪𝘯 𝘩𝘦𝘢𝘳𝘵𝘴 𝘸𝘦 𝘭𝘦𝘢𝘷𝘦 𝘣𝘦𝘩𝘪𝘯𝘥 𝘪𝘴 𝘯𝘰𝘵 𝘵𝘰 𝘥𝘪𝘦." – Thomas Campbell
On Friday afternoon, 20 August, many Union High School learners participated in Union Preparatory School's 𝗥𝗜𝗕𝗕𝗢𝗡𝗦 𝗙𝗢𝗥 𝗥𝗘𝗠𝗘𝗠𝗕𝗥𝗔𝗡𝗖𝗘 installation by tying a ribbon to the school's front fence to remember a loved one or to show their support for those grieving the loss of a loved one.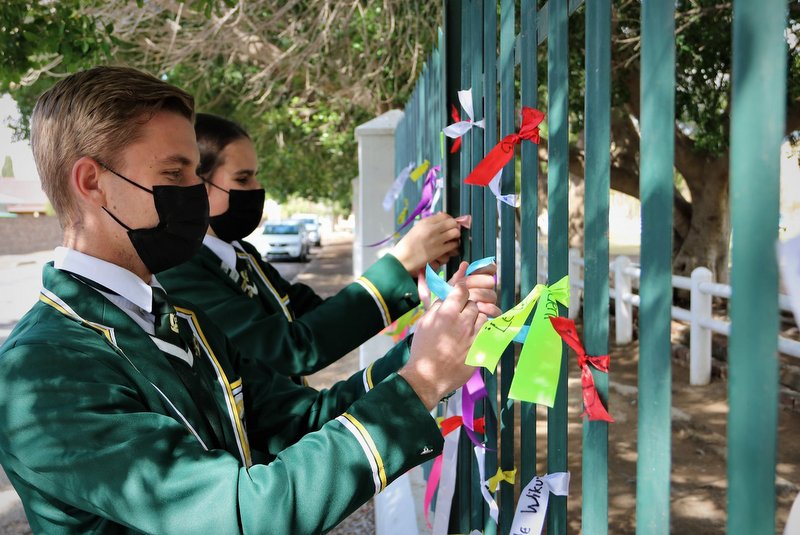 The installation, which will remain on the preparatory school's front fence in Plasket Street until 30 August, serves to honour all those who have passed away during the Covid-19 pandemic and to show support to all those who are grieving.
• 𝘗𝘢𝘳𝘵𝘪𝘤𝘪𝘱𝘢𝘵𝘪𝘰𝘯 𝘪𝘴 𝘰𝘱𝘦𝘯 𝘵𝘰 𝘦𝘷𝘦𝘳𝘺𝘰𝘯𝘦 𝘢𝘯𝘥 𝘵𝘩𝘦 𝘎𝘳𝘢𝘢𝘧𝘧-𝘙𝘦𝘪𝘯𝘦𝘵 𝘤𝘰𝘮𝘮𝘶𝘯𝘪𝘵𝘺 𝘪𝘴 𝘪𝘯𝘷𝘪𝘵𝘦𝘥 𝘵𝘰 𝘢𝘥𝘥 𝘵𝘩𝘦𝘪𝘳 𝘰𝘸𝘯 𝘳𝘪𝘣𝘣𝘰𝘯 𝘵𝘰 𝘵𝘩𝘦 𝘪𝘯𝘴𝘵𝘢𝘭𝘭𝘢𝘵𝘪𝘰𝘯 𝘰𝘷𝘦𝘳 𝘵𝘩𝘦 𝘧𝘰𝘭𝘭𝘰𝘸𝘪𝘯𝘨 𝘵𝘦𝘯 𝘥𝘢𝘺𝘴. 𝘛𝘩𝘦 𝘪𝘯𝘴𝘵𝘢𝘭𝘭𝘢𝘵𝘪𝘰𝘯 𝘸𝘪𝘭𝘭 𝘳𝘦𝘮𝘢𝘪𝘯 𝘪𝘯 𝘧𝘳𝘰𝘯𝘵 𝘰𝘧 𝘵𝘩𝘦 𝘴𝘤𝘩𝘰𝘰𝘭 𝘶𝘯𝘵𝘪𝘭 30 𝘈𝘶𝘨𝘶𝘴𝘵.
View the full story and more photos on the
Union Preparatory School, Graaff-Reinet
Facebook page.