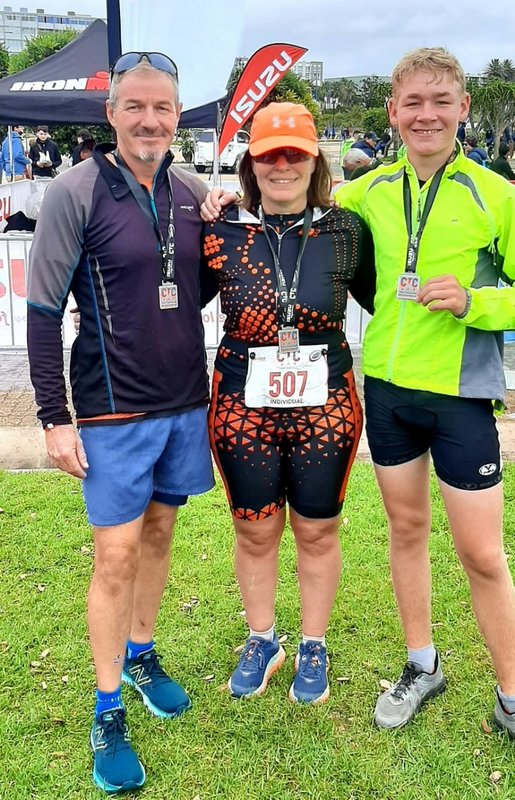 𝗪𝗘𝗟𝗟 𝗗𝗢𝗡𝗘 to Union High School, Graaff-Reinet Grade 10 learner Angus McLaggan and his mom, Lynette, who completed the 𝗜𝗥𝗢𝗡𝗠𝗔𝗡 𝗦𝗼𝘂𝘁𝗵 𝗔𝗳𝗿𝗶𝗰𝗮 𝗖𝗼𝗿𝗽𝗼𝗿𝗮𝘁𝗲 𝗧𝗿𝗶𝗮𝘁𝗵𝗹𝗼𝗻 𝗖𝗵𝗮𝗹𝗹𝗲𝗻𝗴𝗲 this past Saturday, 2 April, in Gqeberha.
They were joined by another Graaff-Reinetter and Union parent, Dave Neill, who also successfully completed the course.
𝘛𝘩𝘦 𝘊𝘰𝘳𝘱𝘰𝘳𝘢𝘵𝘦 𝘛𝘳𝘪𝘢𝘵𝘩𝘭𝘰𝘯 𝘊𝘩𝘢𝘭𝘭𝘦𝘯𝘨𝘦 𝘤𝘰𝘯𝘴𝘪𝘴𝘵 𝘰𝘧 𝘢 380𝘮 𝘴𝘸𝘪𝘮 𝘢𝘵 𝘒𝘪𝘯𝘨𝘴 𝘉𝘦𝘢𝘤𝘩, 𝘢𝘯 18𝘬𝘮 𝘣𝘪𝘬𝘦 𝘳𝘪𝘥𝘦 𝘶𝘱 𝘢𝘯𝘥 𝘥𝘰𝘸𝘯 𝘔𝘢𝘳𝘪𝘯𝘦 𝘋𝘳𝘪𝘷𝘦 𝘢𝘯𝘥 𝘢 4.2𝘬𝘮 𝘳𝘶𝘯 𝘰𝘯 𝘵𝘩𝘦 𝘏𝘶𝘮𝘦𝘸𝘰𝘰𝘥/𝘚𝘶𝘮𝘮𝘦𝘳𝘴𝘵𝘳𝘢𝘯𝘥 𝘣𝘦𝘢𝘤𝘩𝘧𝘳𝘰𝘯𝘵 𝘱𝘳𝘰𝘮𝘦𝘯𝘢𝘥𝘦 𝘧𝘪𝘯𝘪𝘴𝘩𝘪𝘯𝘨 𝘢𝘵 𝘒𝘪𝘯𝘨𝘴 𝘉𝘦𝘢𝘤𝘩.