The annual AGM of the 𝗚𝗥𝗔𝗔𝗙𝗙-𝗥𝗘𝗜𝗡𝗘𝗧 𝗦𝗖𝗢𝗨𝗧 𝗧𝗥𝗢𝗢𝗣 was held on 23 November, marking a bittersweet occasion.
The previous AGM had been a special tribute to Bruce Maree, who had dedicated numerous years to leading the troop with wisdom and grace.
𝘜𝘯𝘧𝘰𝘳𝘵𝘶𝘯𝘢𝘵𝘦𝘭𝘺, 𝘢 𝘮𝘰𝘯𝘵𝘩 𝘭𝘢𝘵𝘦𝘳, 𝘉𝘳𝘶𝘤𝘦 𝘶𝘯𝘦𝘹𝘱𝘦𝘤𝘵𝘦𝘥𝘭𝘺 𝘱𝘢𝘴𝘴𝘦𝘥 𝘢𝘸𝘢𝘺, 𝘭𝘦𝘢𝘷𝘪𝘯𝘨 𝘣𝘦𝘩𝘪𝘯𝘥 𝘢 𝘷𝘰𝘪𝘥 𝘵𝘩𝘢𝘵 𝘤𝘢𝘯 𝘯𝘦𝘷𝘦𝘳 𝘣𝘦 𝘧𝘪𝘭𝘭𝘦𝘥. 𝘏𝘪𝘴 𝘶𝘯𝘪𝘲𝘶𝘦 𝘢𝘱𝘱𝘳𝘰𝘢𝘤𝘩 𝘪𝘯 𝘨𝘶𝘪𝘥𝘪𝘯𝘨 𝘵𝘩𝘦 𝘣𝘰𝘺𝘴 𝘢𝘯𝘥 𝘩𝘪𝘴 𝘪𝘯𝘷𝘢𝘭𝘶𝘢𝘣𝘭𝘦 𝘤𝘰𝘯𝘵𝘳𝘪𝘣𝘶𝘵𝘪𝘰𝘯𝘴 𝘸𝘪𝘭𝘭 𝘣𝘦 𝘥𝘦𝘦𝘱𝘭𝘺 𝘮𝘪𝘴𝘴𝘦𝘥.
During the AGM, awards were presented to deserving scouts, emphasizing their achievements throughout 2023.
Troop scouter Johan Vorster and Kyle Liebenberg had the honour of handing out the awards. 𝙏𝙝𝙚 𝙧𝙚𝙘𝙞𝙥𝙞𝙚𝙣𝙩𝙨 𝙬𝙚𝙧𝙚 𝙖𝙨 𝙛𝙤𝙡𝙡𝙤𝙬𝙨: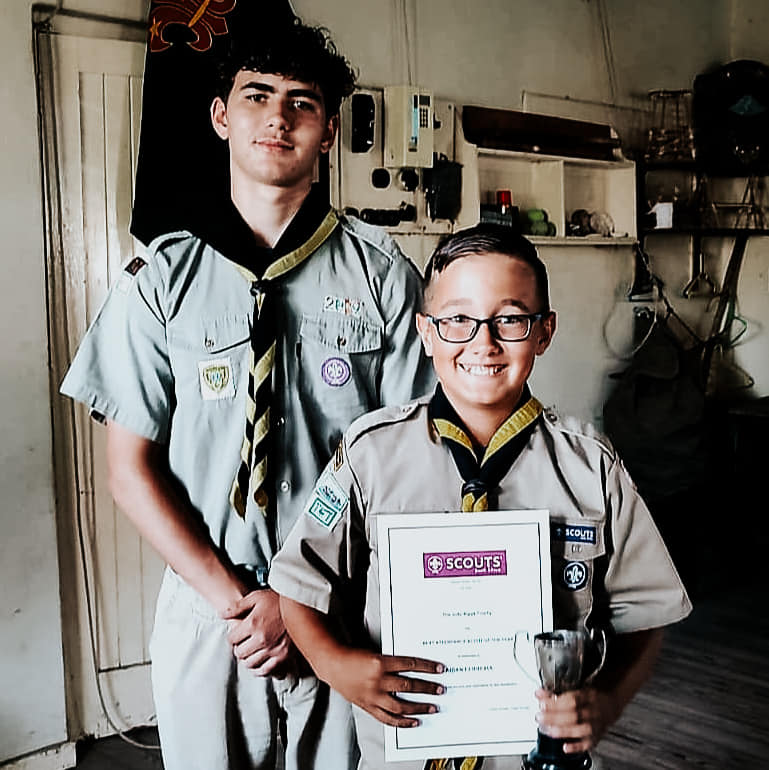 Aidan Ferreira's unwavering commitment and dedication earned him the 𝗕𝗲𝘀𝘁 𝗔𝘁𝘁𝗲𝗻𝗱𝗶𝗻𝗴 𝗦𝗰𝗼𝘂𝘁 𝗔𝘄𝗮𝗿𝗱, a testament to his reliability and enthusiasm
Quinn Naudé was acknowledged with the 𝗠𝗼𝘀𝘁 𝗛𝗲𝗹𝗽𝗳𝘂𝗹 𝗦𝗰𝗼𝘂𝘁 𝗔𝘄𝗮𝗿𝗱, highlighting his selflessness and willingness to assist others.
The 𝗠𝗼𝘀𝘁 𝗜𝗺𝗽𝗿𝗼𝘃𝗲𝗱 𝗦𝗰𝗼𝘂𝘁 𝗔𝘄𝗮𝗿𝗱 was jointly received by Jordan Maritz and Adriaan van Jaarsveld, recognizing their remarkable progress and development within the troop.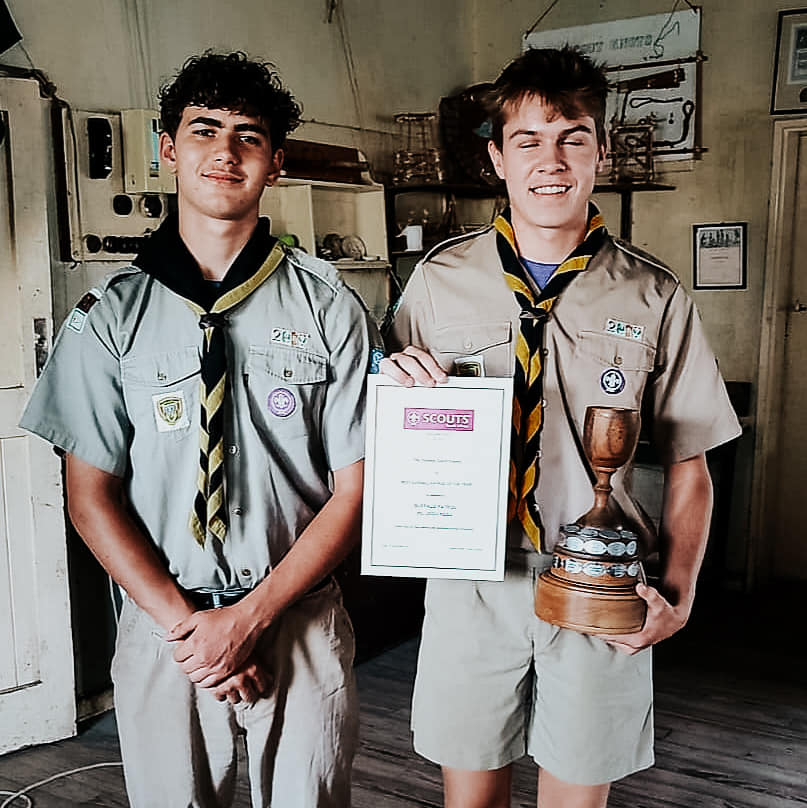 The 𝗕𝘂𝗳𝗳𝗮𝗹𝗼 𝗣𝗮𝘁𝗿𝗼𝗹, under the leadership of Josh Neill, emerged as the Best Overall Patrol, exemplifying cohesion, teamwork and excellence in all endeavors.
The 𝗦𝗽𝗶𝗿𝗶𝘁 𝗔𝘄𝗮𝗿𝗱 was bestowed upon the Eagle Patrol, led by Daniel Marais, who embodied an infectious and uplifting spirit within the troop.
Scouts offers Union High School, Graaff-Reinet's young men a remarkable platform to learn valuable skills, cultivate respect and simply enjoy the adventure of boyhood.
𝗪𝗲 𝗲𝗻𝗰𝗼𝘂𝗿𝗮𝗴𝗲 𝗮𝗹𝗹 𝗚𝗿𝗮𝗱𝗲 𝟱 𝘁𝗼 𝟭𝟮 𝗯𝗼𝘆𝘀 𝘁𝗼 𝗷𝗼𝗶𝗻 𝘁𝗵𝗶𝘀 𝗽𝗿𝗼𝗴𝗿𝗮𝗺𝗺𝗲 𝗶𝗻 𝟮𝟬𝟮𝟰 𝗮𝗻𝗱 𝗱𝗶𝘀𝗰𝗼𝘃𝗲𝗿 𝘁𝗵𝗲 𝗶𝗻𝗰𝗿𝗲𝗱𝗶𝗯𝗹𝗲 𝗲𝘅𝗽𝗲𝗿𝗶𝗲𝗻𝗰𝗲𝘀 𝘁𝗵𝗮𝘁 𝗮𝘄𝗮𝗶𝘁 𝘄𝗶𝘁𝗵𝗶𝗻 𝘁𝗵𝗲 𝘄𝗼𝗿𝗹𝗱 𝗼𝗳 𝘀𝗰𝗼𝘂𝘁𝗶𝗻𝗴.