The Union High School has long enjoyed a wonderful learner exchange programme with Salisbury Cathedral School, a 900-year-old school in Salisbury, Wiltshire, UK, with its incomparable setting beneath the famous spire of Salisbury Cathedral. The school is one of the oldest educational establishments in the world, founded in 1091 by St Osmund, nephew of William the Conqueror and Bishop of Salisbury, to educate the choristers of his Cathedral at Old Sarum.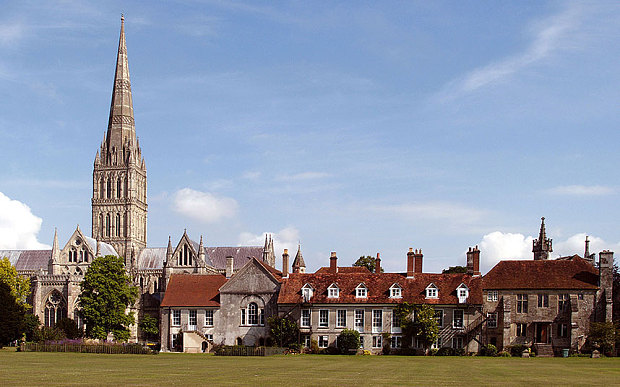 The Salisbury connection: How did it start?
It was a bleak cold, frosty night in August 1992, when the phone rang at the home of Mr Bruce Maree, educator at Union High, at 20h45. On the other end was Billy Teeton, UHS Headboy of 1985, calling from the Cathedral School, Salisbury, England, to enquire whether Union had a 'Gap' student for the following year.
After a hurried visit to Arthur Kingwill House and a telephone call to the Newton Parents in Middelburg, by 21h30 that same evening, Mr Maree was able to call Billy with an affirmative reply that Rhett Newton would be the first 'Gap' at the Salisbury Cathedral School, starting in January 1993.
In June 1993, Mr Maree attended a Scout Reunion in Oklahoma City, USA and also the all- American Scout Jamboree, outside Washington, when he decided to re-schedule his return flights to South Africa via London, paying a visit to Rhett and Billy at the SCS. What a reception he received, and he was able to meet with both Billy and Rhett, plus the Headmaster, Mr Christopher Helyer. During this time the schools set about putting a pupil exchange together – Mr Maree had already schemed as to who our first scholar would be! On return to SA, Mr Maree identified a young lad in Std 4 (Grade 6) whom he thought best fitted the position of 'pupil' exchange. The youngster was John Finlaison whose father, Fraser, was a businessman in Cradock, Rotary President of the Cradock Rotary Club and was also very much involved in the Rotary Exchange Programmes. Naturally, with that background, he did not have to sell the programme he had in mind, as the Finlaison family only saw positive signs in such a programme. From the Cathedral School, came the name of James Mc Killop, son of a prominent businessman in Salisbury.
And so the first pupil exchange began in January 1994.
How would the Junior Exchange Programme work?
It was decided by both Schools, that all things being equal, boys should play cricket for their respective 'A' teams and these candidates would receive preference for the exchange – boys would have the best of two worlds – summer in one another's country, as the English pupil would come for out first term (mid-January to end of March) while the UHS Scholar would go to Salisbury from mid-April to mid-July.
The first exchange
On January 18, 1994, the Pupil Exchange was born when James Mc Killop arrived at Union from Salisbury. Susie, his mother, booked into a hotel in Cape Town – she thought of commuting between Cape Town and Graaff-Reinet on a daily basis until James was settled in! As this was 'Darkest Africa' they had booked return air tickets for three days later should they not like the look of the School or the people. ( I think they saw Graaff-Reinet as a sprawling township of Cape Town!) Remember it was 1994, the year we went democratic, so politically much uncertainty prevailed.
In July of that year Mr Maree was invited to present the trophies and awards at the Cathedral School Sports Award evening, followed by the Academic Prizegiving held in the Cathedral. It was something to experience as their National Athem, God Save the Queen echoed through and around the stone walls of the 2500-seater Cathedral.
One of the things that was decided upon during this visit was that if the Union Std 5 scholar remained at Union High and wrote matric at Union, he would receive first choice as the 'Gap' for his post matric year January to December. – another wonderful opportunity.
For 'Gap' Students, other than hostel duties and the coaching of rugby and cricket,, they were also expected to play rugby and cricket for the Salisbury Clubs – this also serves as a PR exercise – the children look up to their coach playing such top rate sport!
Further links with Graaff-Reinet were made when it was discovered at that time that the Rev Hugh Dickinson was the Archdeacon of the Cathedral and was related to the Southey, de la Harpe and Newton families of Middelburg and Graaff-Reinet. Graaff-Reinet's Grootkerk is built as a smaller replica of the Salisbury Cathedral.
As the years have rolled on, improvements have been made to the programme in that girls have been included in both the junior and gap programmes.
What costs need to be considered?
Juniors: You are expected to pay your own airfare to and from London – you make arrangements with your hosts to meet you in London. Other than extra pocket money, mainly for gifts, all expenses connected with the school are looked after by the hosts and host school.
Likewise, incoming scholars pay their airfare return to Port Elizabeth and are met by their local hosts at the airport. All local expenses (boarding if hosted by hostel parents) and school fees are met by the School. UHS Parents of exchange scholars continue to pay school fees for 4 quarters.
No child whose fees are not up to date with the School will be considered for the programme. Although difficult to enforce, if we know pupils have a chance of leaving UHS within two years of the programme, they should not be considered for selection.
Gaps: You are expected to pay your own return airfare. The school provides full board and lodging for the year plus pocket money (currently about £415pm).. Most times the School will meet you at Heathrow or Gatwick – you make the necessary arrangements with them once flights are confirmed. You will also need a visa to enter the UK. As these requirements change from month to month SCS will provide you with the necessary details and you should communicate with them all the time. To teach in the UK will also require a police clearance certificate – any record will prevent you from taking up the gap.
What follows
Many of our scholars have continued to visit as their scholars and families have been to SA, some several times. Several of our exchanges have settled in the UK permanently. Many of the 'Gaps' meet up with their fellow classmates of 5 years before and arrange tours to the Greek islands in the summer, attend cricket, rugby and tennis at the various stadiums together, and just have a great time, now as students. Friendships have been kindled to such an extent over the years, that attendance at family events (weddings, funerals,) are worthwhile excuses to visit again!
Marc Abrahamson had a touching experience when he returned for Christmas 2010 as a gap student, when his whole class of 5 years before arrived on Christmas morning to join him for a Christmas Communion service in the Cathedral.
This programme is a programme of opportunity and networking which makes a big world very small.