𝗧𝗔𝗡𝗚𝗟𝗘𝗗: 𝗔 𝘀𝘁𝘂𝗻𝗻𝗶𝗻𝗴𝗹𝘆 𝗯𝗲𝗮𝘂𝘁𝗶𝗳𝘂𝗹 𝗽𝗿𝗼𝗱𝘂𝗰𝘁𝗶𝗼𝗻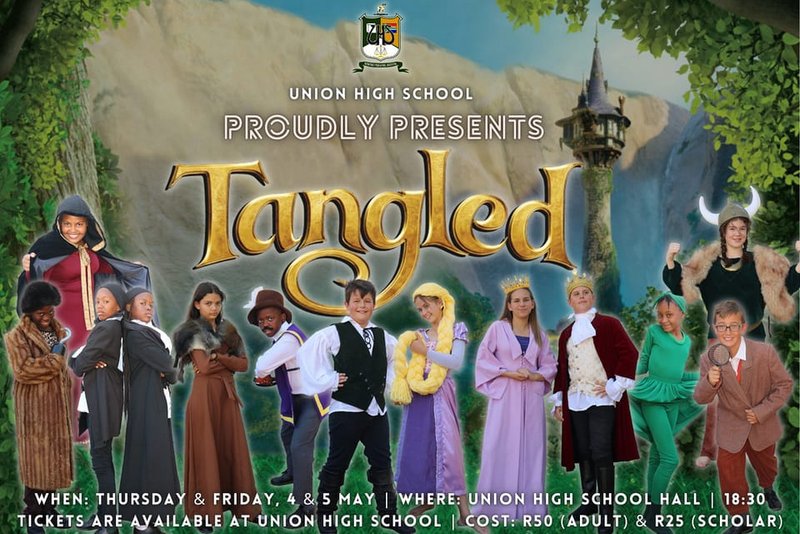 Union High School, Graaff-Reinet's 2023 primary department production, saw the 2010 box office hit, Tangled, translated to the stage for the purposes of delighting local theatre lovers!
The narrative was, for the most part, identical. Snatched from her royal bed at birth, Rapunzel goes about her days locked in a forgotten tower under the ever-watchful eye of the evil Mother Gothel. Seizing her chance to escape with the bandit Flynn Rider, Rapunzel embarks on an adventure to see the lanterns that fill the sky on her birthday each year and discover her past in the process.
𝗧𝗵𝗲 𝗽𝗹𝗮𝘆 𝗺𝗮𝗻𝗮𝗴𝗲𝗱 𝘁𝗼 𝗽𝗲𝗿𝗳𝗼𝗿𝗺 𝗮 𝘄𝗵𝗶𝘀𝘁𝗹𝗲 𝘀𝘁𝗼𝗽 𝘁𝗼𝘂𝗿 𝗼𝗳 𝘁𝗵𝗲 𝗳𝗶𝗹𝗺'𝘀 𝗺𝗼𝘀𝘁 𝗹𝗼𝘃𝗲𝗱 𝗺𝘂𝘀𝗶𝗰𝗮𝗹 𝗻𝘂𝗺𝗯𝗲𝗿𝘀, 𝘄𝗵𝗶𝗹𝗲 𝗮𝗹𝘀𝗼 𝗶𝗻𝗰𝗹𝘂𝗱𝗶𝗻𝗴 𝗻𝘂𝗺𝗲𝗿𝗼𝘂𝘀 𝗼𝘁𝗵𝗲𝗿 𝗵𝗶𝘁 𝘀𝗼𝗻𝗴𝘀 such as Imagine Dragons' 'On Top of the World', Whitney Houston's 'When You Believe' and Coldplay's 'Sky Full of Stars' which were performed with such unmistakable Disney flair by the school's junior learners that they felt instantly at home amidst fan-favourites such as 'I've Got a Dream' and 'I See the Light.'
The catchy numbers, combined with stunning costumes and beautiful backdrops created an atmosphere that managed to fully immerse the audience in the story.
While Rachel Wenham and Connor Te Water Naude each gave 𝙨𝙥𝙚𝙡𝙡𝙗𝙞𝙣𝙙𝙞𝙣𝙜 𝙥𝙚𝙧𝙛𝙤𝙧𝙢𝙖𝙣𝙘𝙚𝙨 𝙖𝙨 𝙍𝙖𝙥𝙪𝙣𝙯𝙚𝙡 𝙖𝙣𝙙 𝙍𝙞𝙙𝙚𝙧 𝙤𝙤𝙯𝙞𝙣𝙜 𝙬𝙞𝙩𝙝 𝙚𝙣𝙚𝙧𝙜𝙮 𝙖𝙣𝙙 𝙥𝙞𝙯𝙖𝙯𝙯, the comedic talents of Aidan Ferreira, who portrayed the detective Maximus, and the vocal talents of Chloe-Ann Fourie as Mother Gothel, made it impossible not to smile at the learners' keen sense of belonging to the magical world so well-depicted on stage.
With a cast consisting of almost 180 Grade 5 to 7 learners, Union's 'Tangled' was a high-jinx, humorous, entertaining, and superb show all round – full of fun and the feel-good factor.
𝗣𝗿𝗮𝗶𝘀𝗲 𝘀𝗵𝗼𝘂𝗹𝗱 𝗯𝗲 𝗴𝗶𝘃𝗲𝗻 𝘁𝗼 the show's creators Mrs Avrille Putter and Mrs Sanette Brink, backdrop artists Mrs Janet Kingwill and Miss Lauren Stanley, the technical crew and the members of the cast who made it possible for us to "see the light" with a production that lives up to the near-impossible standards of the phrase 𝘋𝘪𝘴𝘯𝘦𝘺 𝘮𝘢𝘨𝘪𝘤.
𝗣𝗵𝗼𝘁𝗼𝘀 𝗰𝗮𝗻 𝗯𝗲 𝘃𝗶𝗲𝘄𝗲𝗱 𝗮𝗻𝗱 𝗱𝗼𝘄𝗻𝗹𝗼𝗮𝗱𝗲𝗱 𝗮𝘁 𝘁𝗵𝗲 𝗳𝗼𝗹𝗹𝗼𝘄𝗶𝗻𝗴 𝗹𝗶𝗻𝗸: https://theunionschools.pixieset.com/tangledamusical/