Over the last few years the Media Team has struggled to find their feet and this year, under the guidance of Mr JP Kruger they are bouncing back. The team has now grown to include all kinds of Media related work which includes; sound engineering, slideshow creation and control, photography, physical equipment and the newest addition live streaming.
The sound and slideshow teams are there to assist during any assembly or event that requires their assistance. The photography team assists Mrs Mariette Burger with photography of all type of events. The physical equipment team is there to assist all other teams when there is a need to move physical equipment around the campus. Finally, the live stream team is there to live stream all the home fixtures of the school. You can feel free to watch any of the live streams or previous videos on our YouTube channel: https://www.youtube.com/channel/UCpuKcTrHgpAQ_KovzKsZXPA
At Union High we try to grow our learners in many different ways, so that they can leave school and be a more rounded individual. The Media Team is the perfect place for those aspiring to get a career in any multimedia career.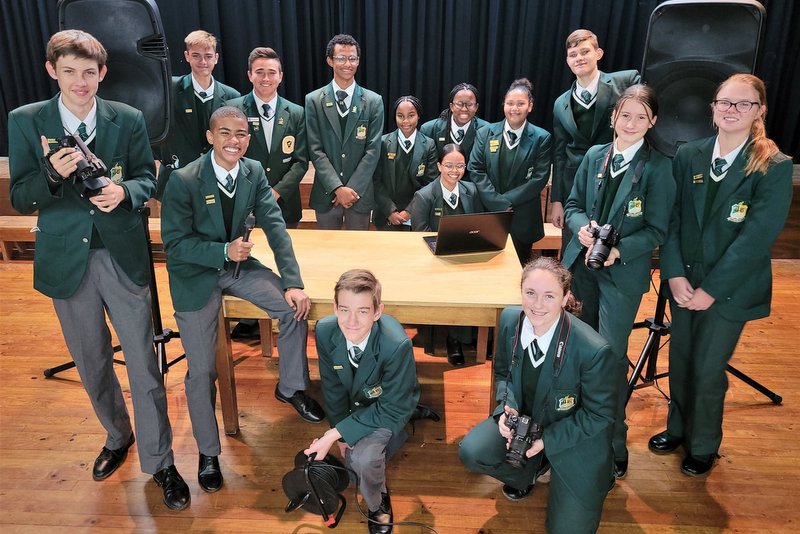 We are very excited to introduce Union High School's new 𝗠𝗘𝗗𝗜𝗔 𝗧𝗘𝗔𝗠.
The 𝗠𝗘𝗗𝗜𝗔 𝗧𝗘𝗔𝗠 is an extra-curricular opportunity for learners interested in technology and digital storytelling.
In addition to bringing their voices and perspectives to Union's growing online presence and brand across digital platforms, they also serve as 𝙩𝙝𝙚 𝙨𝙘𝙝𝙤𝙤𝙡'𝙨 𝙧𝙚𝙨𝙞𝙙𝙚𝙣𝙩 𝙩𝙚𝙘𝙝 𝙨𝙦𝙪𝙖𝙙, assisting the various departments within the school with their technological needs.
𝗘𝗾𝘂𝗶𝗽𝗺𝗲𝗻𝘁
Daniel Marais
Alexander Neill
𝗟𝗶𝘃𝗲 𝗦𝘁𝗿𝗲𝗮𝗺𝗶𝗻𝗴
Josh Arends
Alastair Imrie
Bukhobenkosi Nomatye
Samantha Charles
𝗣𝗵𝗼𝘁𝗼𝗴𝗿𝗮𝗽𝗵𝘆
Sarah Jacobs
Amy Waddelow
𝗦𝗼𝘂𝗻𝗱 𝗮𝗻𝗱 𝗩𝗶𝘀𝘂𝗮𝗹𝘀
Johannes du Plessis
Erin Gedult
Leshay Fourie
Keisha Mentoor
𝗟𝗲𝗮𝗱𝗲𝗿𝘀/𝗠𝗮𝗻𝗮𝗴𝗲𝗿𝘀
Aashiq Hartley
JJ Liebenberg