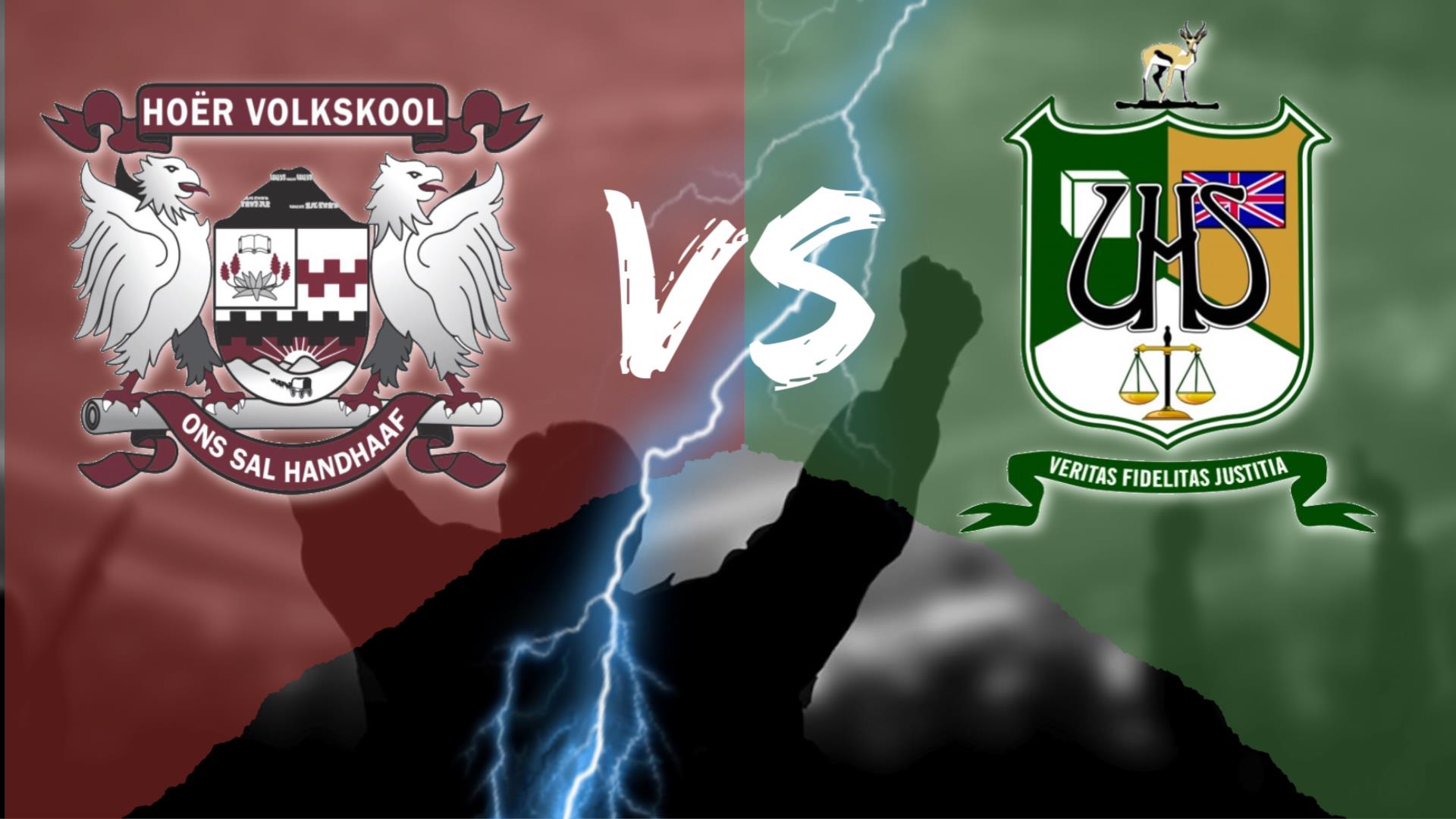 Even in the time when Graaff-Reinet's sporting activities were at their peak with various clubs for rugby, cricket, tennis etc., Interschools was still the major sporting and social event on the town's sporting calendar. No other event filled the stands of the Botanical Sports Field with so many people.
After the founding of the Union High School (1919) and Volkskool (1922) respectively, animosity between the parents, pupils and teachers of the two schools was tangible. The two schools, however, decided to play against each other and the first ever sports matches took place soon after the foundation of the schools. Although Union High and Volkskool are not the oldest schools in the former Cape Province, the annual matches between them are of the oldest.
From 1928 to 1969 two Interschools matches were played per annum. As the records show, it often happened that the tables in the second game turned. One of the reasons given by some old Unionites, as to why from 1969 only one match took place, is that it was felt that the school community's emotions could not be raised like that twice in one year.
Currently the relationship between Union High and Volkskool is very good. There is a strong spirit of cooperation. The friendship does not mean that the one will back down for the other during Interschools. The competition is very tough but is played in the good spirit of sportsmanship. It is also an opportunity for past pupils to return to their Alma Mater for reunions and to experience a taste of the good old days.
PREVIOUS INTERSCHOOLS RESULTS
RUGBY

1922
0 – 0
1954
0 – 12
0 – 0
1980
3 – 18
2006
30 – 3
1926
3 – 53
1955
3 – 6
6 – 9
1981
0 – 4
2007
18 – 16
1928
0 – 15
7 – 22
1956
3 – 12
3 – 0
1982
11 – 11
2008
8 – 31
1931
14 – 6
1957
0 – 0
19 – 5
1983
11 – 13
2009
12 – 12
1932
17 – 12
3 – 0
1958
6 – 0
6 – 0
1984
6 – 14
2010
25 – 15
1933
7 – 15
0 – 3
1959
3 – 0
0 – 9
1985
4 – 16
2011
16 – 6
1934
0 – 8
6 – 12
1960
14 – 9
14 – 3
1986
3 – 6
2012
13 – 8
1935
3 – 12
0 – 0
1961
6 – 13
16 – 8
1987
9 – 6
2013
6 – 6
1936
3 – 14
13 – 8
1962
6 – 5
3 – 3
1988
7 – 22
2014
5 – 5
1937
0 – 6
0 – 6
1963
6 – 19
8 – 6
1989
10 – 9
2015
14 – 15
1938
3 – 3
0 – 17
1964
8 – 8
6 – 6
1990
4 – 6
2016
29 – 6
1939
7 – 3
13 – 3
1965
6 – 6
6 – 14
1991
7 – 9
2017
23 – 20
1940
19 – 3
11 – 0
1966
14 – 0
0 – 16
1992
6 – 15
2018
30 – 17
1941
6 – 8
6 – 0
1967
8 – 3
9 – 0
1993
3 – 23
2019
3 – 22
1942
3 – 0
6 – 0
1968
6 – 0
6 – 11
1994
16 – 31
1943
0 – 8
0 – 18
1969
17 – 3
14 – 6
1995
7 – 22
1944
6 – 38
10 – 21
1970
Cancelled
1996
0 – 35
1945
3 – 20
3 – 12
1971
22 – 0
1997
10 – 3
1946
0 – 14
0 – 8
1972
3 – 4
1998
15 – 18
1947
0 – 31
3 – 14
1973
18 – 6
1999
13 – 10
1948
3 – 3
0 – 3
1974
0 – 10
2000
13 – 10
1949
3 – 8
3 – 6
1975
9 – 6
2001
5 – 18
1950
3 – 3
0 – 3
1976
10 – 6
2002
18 – 19
1951
14 – 14
6 – 3
1977
3 – 31
2003
26 – 14
1952
8 – 8
3 – 3
1978
14 – 3
2004
16 – 16
1953
3 – 8
6 – 9
1979
16 – 16
2005
27 – 32
HOCKEY

1957 – 1962 No scores available
1963
10 – 1
1 – 0
1978
2 – 0
1993
1 – 0
2008
2 – 1
1964
11 – 0
7 – 0
1979
0 – 0
1994
3 – 1
2009
1 – 3
1965
9 – 0
9 – 1
1980
1 – 0
1995
1 – 1
2010
1 – 1
1966
7 – 0
5 – 0
1981
0 – 0
1996
0 – 0
2011
4 – 0
1967
2 – 0
1982
2 – 2
1997
0 – 1
2012
3 – 1
1968
1 – 0
1 – 0
1983
0 – 0
1998
1 – 0
2013
1 – 0
1969
4 – 1
0 – 1
1984
2 – 0
1999
1 – 0
2014
1 – 0
1970
4 – 2
1985
2 – 0
2000
1 – 1
2015
2 – 1
1971
4 – 0
4 – 0
1986
0 – 1
2001
0 – 1
2016
4 – 0
1972
4 – 0
2 – 1
1987
0 – 0
2002
1 – 0
2017
5 – 0
1973
2 – 0
1 – 0
1988
0 – 0
2003
1 – 2
2018
4 – 0
1974
4 – 0
4 – 0
1989
1 – 1
2004
1 – 0
2019
1 – 1
1975
4 – 0
5 – 3
1990
3 – 1
2005
0 – 0
1976
2 – 0
1991
1 – 0
2006
0 – 3
1977
4 – 2
1992
0 – 1
2007
3 – 0