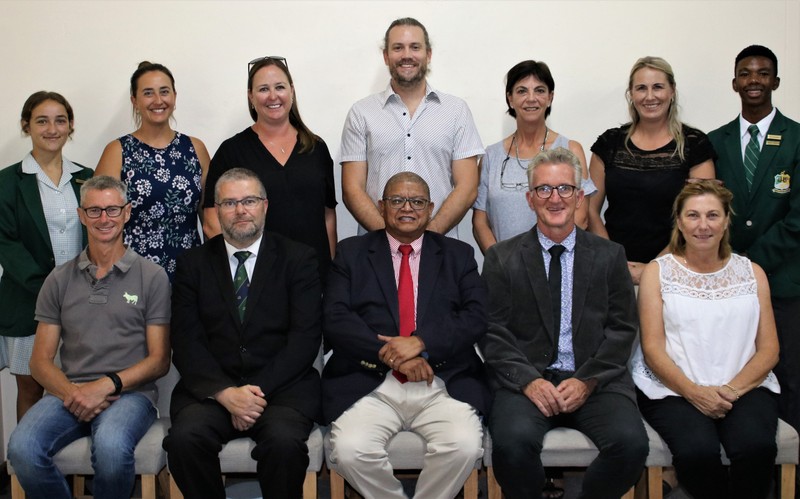 𝘛𝘩𝘦 𝘚𝘤𝘩𝘰𝘰𝘭 𝘎𝘰𝘷𝘦𝘳𝘯𝘪𝘯𝘨 𝘉𝘰𝘥𝘺 (𝘚𝘎𝘉) 𝘪𝘴 𝘵𝘩𝘦 𝘣𝘰𝘥𝘺 𝘦𝘭𝘦𝘤𝘵𝘦𝘥 𝘣𝘺 𝘵𝘩𝘦 𝘴𝘤𝘩𝘰𝘰𝘭 𝘤𝘰𝘮𝘮𝘶𝘯𝘪𝘵𝘺 𝘵𝘰 𝘦𝘯𝘴𝘶𝘳𝘦 𝘴𝘰𝘶𝘯𝘥 𝘨𝘰𝘷𝘦𝘳𝘯𝘢𝘯𝘤𝘦 𝘢𝘵 𝘵𝘩𝘦 𝘴𝘤𝘩𝘰𝘰𝘭.  𝘗𝘢𝘳𝘦𝘯𝘵𝘴 𝘦𝘭𝘦𝘤𝘵 𝘱𝘢𝘳𝘦𝘯𝘵𝘴 𝘵𝘰 𝘳𝘦𝘱𝘳𝘦𝘴𝘦𝘯𝘵 𝘵𝘩𝘦𝘪𝘳 𝘪𝘯𝘵𝘦𝘳𝘦𝘴𝘵𝘴, 𝘵𝘩𝘦 𝘴𝘵𝘢𝘧𝘧 𝘦𝘭𝘦𝘤𝘵𝘴 𝘵𝘩𝘦𝘪𝘳 𝘳𝘦𝘱𝘳𝘦𝘴𝘦𝘯𝘵𝘢𝘵𝘪𝘷𝘦𝘴 𝘢𝘯𝘥 𝘵𝘩𝘦 𝘭𝘦𝘢𝘳𝘯𝘦𝘳𝘴 𝘢𝘭𝘴𝘰 𝘦𝘭𝘦𝘤𝘵 𝘭𝘦𝘢𝘳𝘯𝘦𝘳𝘴 𝘵𝘰 𝘳𝘦𝘱𝘳𝘦𝘴𝘦𝘯𝘵 𝘵𝘩𝘦𝘮. 𝘊𝘶𝘳𝘳𝘦𝘯𝘵𝘭𝘺, 𝘜𝘯𝘪𝘰𝘯 𝘏𝘪𝘨𝘩 𝘚𝘤𝘩𝘰𝘰𝘭'𝘴 𝘵𝘦𝘢𝘮 𝘰𝘧 𝘨𝘰𝘷𝘦𝘳𝘯𝘰𝘳𝘴 𝘤𝘰𝘯𝘴𝘪𝘴𝘵𝘴 𝘰𝘧 𝘴𝘦𝘷𝘦𝘯 𝘱𝘢𝘳𝘦𝘯𝘵 𝘮𝘦𝘮𝘣𝘦𝘳𝘴, 2 𝘦𝘥𝘶𝘤𝘢𝘵𝘰𝘳𝘴, 1 𝘯𝘰𝘯-𝘦𝘥𝘶𝘤𝘢𝘵𝘰𝘳, 𝘵𝘩𝘦 𝘏𝘦𝘢𝘥𝘮𝘢𝘴𝘵𝘦𝘳, 𝘢𝘯𝘥 𝘵𝘸𝘰 𝘭𝘦𝘢𝘳𝘯𝘦𝘳 𝘳𝘦𝘱𝘳𝘦𝘴𝘦𝘯𝘵𝘢𝘵𝘪𝘷𝘦𝘴 𝘸𝘩𝘰 𝘢𝘳𝘦 𝘢𝘭𝘭 𝘱𝘢𝘴𝘴𝘪𝘰𝘯𝘢𝘵𝘦 𝘢𝘯𝘥 𝘦𝘹𝘱𝘦𝘳𝘪𝘦𝘯𝘤𝘦𝘥 𝘪𝘯𝘥𝘪𝘷𝘪𝘥𝘶𝘢𝘭𝘴, 𝘸𝘩𝘰 𝘭𝘰𝘷𝘦 𝘸𝘩𝘢𝘵 𝘵𝘩𝘦𝘺 𝘥𝘰 𝘢𝘯𝘥 𝘢𝘭𝘸𝘢𝘺𝘴 𝘭𝘰𝘰𝘬 𝘧𝘰𝘳𝘸𝘢𝘳𝘥 𝘵𝘰 𝘧𝘢𝘤𝘪𝘯𝘨 𝘯𝘦𝘸 𝘤𝘩𝘢𝘭𝘭𝘦𝘯𝘨𝘦𝘴.
GOVERNING BODY MEMBERS

PORTFOLIO

EX OFFICIO MEMBER
 
Mr W.E. Pringle (Headmaster)
Academic
 
 
PARENT / GUARDIAN REPRESENTATIVES
 
Mr Kelvin Kayster (Chairperson)
Policy analysis and development and Legal advisor
Mr David Langmead (Deputy Chairperson)
Cultural Activities
Special Projects
Mr Dolan Cochrane
Secretary
Mrs Cheryl Waddelow
Treasurer
Mrs Tess Neill
Fundraising/PR
Mrs Jennifer Hope
Hostels
Mr Grant Lemke
Grounds/Maintenance
Mr Dolan Cochrane
Transformation/Diversity
Mrs B. Ferreira
Sport
 
 
STAFF REPRESENTATIVES
 
Mrs Yvette Cloete
Academic
Mrs Mariëtte Burger
PR
 
 
LEARNER REPRESENTATIVES
 
Kaitlin Kenmuir & Ndalo Qwalela
 
 
 
 
Mr Kelvin Kayster currently serves the school as the new chairperson of the SGB.
Along with his wife Anziske, he has been a parent at the school for the past 13 years, with his eldest son William being a member of the Class of 2020 and his youngest, Phillip, currently in Grade 5.
This will be his second term as a member of the SGB, having served his previous 3-year term as vice-chairperson, assisting the school with policy development and legal support.
Mr Kayster, a Labour Law practitioner and accredited arbitrator and mediator with 25 years experience in Labour Law and Human Rights practice, will – along with his duties as chairperson – once again be heading up the school's 'Legal & Policies' portfolio on this body.
When asked what his vision for the school is, Mr Kayster replied, "As a parent, I am hoping to inspire my children to not only seize the opportunities that a quality education brings but to also seek to apply those skills in the service of others in whatever form or forum, large or small and to appreciate the simple legacy of striving to leave a place better than we found it."
He continued, "It is for this reason that my vision for the school is to maintain its reputation as a premier educational institution that provides a safe and secure environment that would prepare and guide learners to become leaders in an integrated society. Over the course of the next three years, as chairperson of the governing body, I will do my utmost to ensure that the school encourages innovation within a culture of learning while striving for academic excellence, and nurturing kindness and compassion and tolerance for diverse personalities and cultures alike."
Mr David Langmead has been elected to serve as the new deputy chairman of the SGB.
In addition to serving as deputy chair for the next three years, Mr Langmead will also be in charge of the 'Cultural Activities' and 'Special Projects' portfolios.
Along with his wife Bronwen, he has been a parent at the Union Schools for the past 15 years. His youngest, Jude, is currently enrolled as a Grade 10 learner, with older siblings Rebecca and Bowen having matriculated in 2018 and 2020 respectively.
(His wife Bronwen currently teaches Grade 8 and 9 Creative Arts, Grade 9 English and Grade 12 Life Orientation at Union.)
Mr Langmead, an internationally renowned wildlife and landscape artist, has accumulated invaluable experience in school governance over the years, having already served on the Union Schools' governing bodies for three terms (9 years). During these nine years, six were spent at the Union Preparatory School as chair of their governing body, with the last three being the years spent as chairperson of the High School's governing body.
Thanks to an immense amount of hard work and dedication these past nine years, Mr Langmead has been instrumental in driving positive change and improvements throughout the school.
When asked what his vision for the school is, Mr Langmead replied, "As I have always believed in the importance of linguistic diversity, it is my vision to see a language centre established at the school to ensure that quality language learning facilitates the integration of isiXhosa and Afrikaans learners at the school. Thanks to generous corporate sponsorship, this has already been put into motion."
During the next three years, which will be my last as a parent of the school, I hope to see the classrooms become exciting 21st-century teaching spaces, supported by quality digital systems and educational technology to make the learning environment at Union more dynamic than ever before.
The future is exciting for this incredibly special school," he concluded.
Mr Dolan Cochrane will be serving the Union High School community as the secretary of its SGB for the next three years.
In addition to his role as secretary, he will also be in charge of the 'Transformation and Diversity' portfolio on this body.
Mr Cochrane and his wife Sara have two beautiful daughters, Sasha and Cate, who are currently in Grade 8 and Grade 5 at Union, respectively.
The family fell in love with Graaff-Reinet when they moved here from Cape Town to lead The Assembly Church in January 2015.
As the lead pastor of a dynamic, relevant, Christ-centred church, Mr Cochrane is deeply rooted in the Graaff-Reinet community.
The multifaceted responsibility of his position at the church requires him to be skilled in leadership, counselling, communication, management, finances, biblical truth, theological expertise, and current social issues – a skill set that will add immense value to the SGB.
When asked what his vision for the school is, Mr Cochrane's reply was simple, "I want what any parent wants, for my child to attend a well-run school with top-class facilities and modern teaching and learning methods."
He continued, "To serve on Union's governing body is a great privilege that comes with great responsibility. All the new members are committed to working towards the holistic advancement of our school and are ready to give their utmost best to see that the well-being of our learners and teachers are always prioritized.
We hope that we can count on the cooperation and support of our school community as a whole to lead our school to great heights."
Mrs Cheryl Waddelow has been elected to fulfil the role of treasurer on Union High School's new SGB.
In addition to taking on the many responsibilities associated with this position, she will also be managing the 'Finance' portfolio on the SGB.
Mrs Waddelow and her family, who are originally from Limpopo, moved to our beautiful town in 2014, after which they set the wheels in motion to open a Pick n Pay supermarket in Graaff-Reinet.
Two years later, in 2016, the store opened its doors in Church Street and has since flourished under the exceptional management of its co-owners – Mrs Waddelow and her husband, Peter.
The couple's two daughters, Lauren and Amy, are currently enrolled at Union, in Grade 7 and 11, respectively.
With her eldest, Bradley, aged 29, and her youngest, Amy, aged 12, Mrs Waddelow has already accumulated 23 years of experience in parent participation at school level!
Managing the workforce of a large retailer in the fast-moving consumer goods industry has led to Mrs Waddelow acquiring strong human resources competencies, communication and interpersonal abilities, as well as the capacity to be able to lead, listen and empathize with her employees, all skills that will stand her in good stead while serving on Union's SGB.
When asked what her vision for the school is, Mrs Waddelow replied, "There's a quote by Mahatma Gandhi, which reads as follows, '𝘉𝘺 𝘦𝘥𝘶𝘤𝘢𝘵𝘪𝘰𝘯 𝘐 𝘮𝘦𝘢𝘯 𝘢𝘯 𝘢𝘭𝘭-𝘳𝘰𝘶𝘯𝘥 𝘥𝘳𝘢𝘸𝘪𝘯𝘨 𝘰𝘶𝘵 𝘰𝘧 𝘵𝘩𝘦 𝘣𝘦𝘴𝘵 𝘪𝘯 𝘵𝘩𝘦 𝘤𝘩𝘪𝘭𝘥 𝘢𝘯𝘥 𝘮𝘢𝘯; 𝘣𝘰𝘥𝘺, 𝘮𝘪𝘯𝘥 𝘢𝘯𝘥 𝘴𝘱𝘪𝘳𝘪𝘵.'
I firmly believe that for learners to thrive and flourish in the fast-changing, ever-challenging, world, they need to learn more than reading, writing and arithmetic, more than science, art and the humanities. It is no less important that they learn to find a sense of purpose, take care of their physical wellbeing, learn to grow from failure and hardship, nurture healthy relationships, as well as deal with painful emotions and cultivate happy ones.
In addition to focussing on achievement, discipline and academic skills, I want my two daughters to be happy, healthy and confident while at school. Although there is no instant or extraordinary recipe for success, I'd like to see the school invest in a comprehensive, multi-year educational intervention programme with the purpose of contributing to the learners' – and teachers' – overall psychological wellbeing."
As one of the newly-elected members of the Union High School SGB, Mr Grant Lemke has shouldered the responsibility of managing the school's 'Grounds and Maintenance' portfolio.
The founder of Tretower Telematics – a company that offers farm monitoring and control solutions from the comfort of a smartphone or laptop – Mr Lemke is a successful entrepreneur with a diverse academic background that includes degrees in Engineering, Commerce and Business Administration.
Mr Lemke's wide field of expertise will be an incredible asset to the school, particularly in his 'Ground and Maintenance' portfolio, which will see him work closely with our estate manager, Mr Donald Kingwill, and our team of groundsmen.
Originally from Knysna, Mr Lemke, his lovely wife Claire and sons Ben (Grade 7) and Mark (Grade 5), made the move to Graaff-Reinet at the end of 2019.
As an avid sportsman, Mr Lemke was an active member of the Knysna Marathon Club and Knysna Yacht Club, often participating in marathons – road races as well as canoe. In 2018, he also competed in the Ironman 70.3 World Champs, coming 29th in his age group overall.
Since having put down their roots in our special town, Mr Lemke and his family's love of people and community, has very quickly seen them become a treasured new addition to the Union and Graaff-Reinet community.
When asked what his vision for the school is, Mr Lemke replied, "One of the most famous quotes of the revered Nelson Mandela reads as follows, '𝘌𝘥𝘶𝘤𝘢𝘵𝘪𝘰𝘯 𝘪𝘴 𝘵𝘩𝘦 𝘮𝘰𝘴𝘵 𝘱𝘰𝘸𝘦𝘳𝘧𝘶𝘭 𝘸𝘦𝘢𝘱𝘰𝘯 𝘸𝘩𝘪𝘤𝘩 𝘺𝘰𝘶 𝘤𝘢𝘯 𝘶𝘴𝘦 𝘵𝘰 𝘤𝘩𝘢𝘯𝘨𝘦 𝘵𝘩𝘦 𝘸𝘰𝘳𝘭𝘥'.
Education is our children's Golden Ticket to success in life. As parents, we should recognise that education is a tangible investment and we must all prioritise this investment in our daily lives.
My vision for Union is a school that is actively supported by all parents, a school that delivers academic excellence to all learners. Our children are going to see mind-blowing advances in technology in their lifetimes. And we must both inspire and equip our learner accordingly.
Union has incredible facilities, and the residents of Graaff-Reinet are incredibly special people. I firmly believe Union has all the ingredients to be a shining example to the rest of South Africa."
Old Unionite Mrs Jennifer Hope will be managing the 'Hostels' portfolio on Union's new SGB.
As part of Union's Class of 2000, Mrs Hope is a proud product of the institution and hopes to be a part of its growth and overall success going forward.
"As an Old Unionite, I am ever-passionate about ensuring that all the learners at the school get to have the incredible experience I was lucky enough to have as a learner of the school. By serving the school in this capacity I'm in the privileged position of being able to do so," says Mrs Hope.
Mrs Hope and her husband George (also an Old Unionite) farms on Lochdale near Jansenville, from where she also operates a successful chicken business and an accommodation establishment.
Their two sons, Tristan and Murray, are enrolled in Grade 7 and Grade 4 at Union, respectively.
When asked what her vision for the school is, Mrs Hope responded, "As a collective, we, as the SGB, are mindful of the ever-changing role which the school has to play in enabling our leaders of tomorrow. This school has, over the years, built a brand and ethos that must be maintained, nurtured and expanded on. I look forward to being part of the team tasked with this responsibility.
As a learning institution, we need to be able to adapt and understand how things are to be done differently in the future. We must position this school as a responsive and key enabler for the future, all the while keeping in place what has made this school successful.
I believe that we each have the power and responsibility to get involved in society and our communities, and for this reason, I have volunteered my time for many years in many projects, from serving on the Union Preparatory School SGB, to being a trustee of the UHS Development Trust and as an Old Unionite Association committee member and now the UHS Governing Body. I urge parents and families to step forward, involve themselves, and be a part of making this wonderful school even better.
As your representative, I look forward to engaging with you in an open way about your ideas in this regard."
The last, but most definitely not the least, of our new SGB parent members that we have the honour of introducing to our school community, is Mrs Tess Neill.
Mrs Neill will be managing the 'Fundraising, Marketing & PR' portfolio while serving on this very important body.
Originally from Parys, Mrs Neill and her family moved to Graaff-Reinet from Tarkastad in June 2019, with her husband Dave taking over the reins of the well-known home and industrial cleaning enterprise, Radium, as its new owner.
Mrs Neill, has a BComm degree, with years of experience in, not only entrepreneurial enterprises, but the hospitality and service industry as well.
Their children, eldest son Joshua, and twins Kenza and Alex, are enrolled in Grade 9 and 8 at Union, respectively.
"I firmly believe that the single most important factor in every learner's success at school, is parent involvement," says Mrs Neill. "From the onset of my children's school careers I have wanted to be a parent that's involved in their schooling, but, not only that, I want to be a parent that makes a difference at the school itself. That being said, I feel privileged to have been elected onto a body that gives me the tools to do so."
When asked what her vision for the school is, Mrs Neill responded that, above all else, she wants Union to consist of a unified body of learners and parents, who stand together to ensure that the current and future learners of the school are guaranteed the very best there is to offer in the educational sphere.
"I believe that a school community will always find success if it is built on a foundation of mutual respect, across all aspects of the diversities that we are privileged to experience in South Africa. Respect is a very important foundational factor in the development and maintenance of a healthy learning environment. It is respect that opens space for the development of trust, learning and growth as individuals, as schools and as a nation.
I, therefore, wish to see Union continue to be an educational institution that's steeped in respect, consideration and equality. A school that instills pride, a sense of belonging and a desire for every learner to be their very best selves."