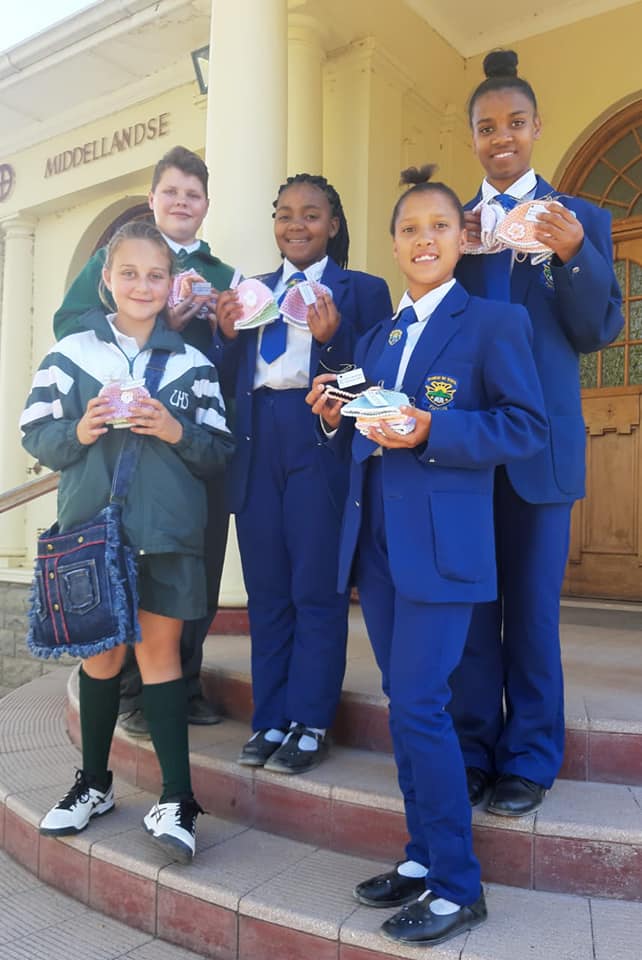 Union High School has an array of after-school activities. Recently, however, another activity has been added to the mix.
Union's Crochet Club, implemented by Mrs. Hanli Rose-Innes and Mrs. Bethia Feldon, meets once a week and offers learners the opportunity to acquire the skill of crocheting, while also contributing to a charity project.  Participation in the club's activities isn't limited to Union, with learners from Spandau Secondary School having also proven quite deft with the crochet hook.
The club's first project was to crochet baby beanies for the patients at the Midlands Hospital – the first batch was delivered just this week.
Thanks to the support of the Prescient Foundation, the learners are able to purchase their crochet needles and wool from Loop Wool Boutique, who also supply all the necessary craft items at a welcome discount.  For every four beanies a learner completes, they are rewarded with a voucher for one ball of wool, in this way they can crochet with the aim of acquiring enough wool to create something for themselves.
The club hopes to knit about 30 beanies a month.
It is apparent that the club means a great deal to the learners as many of them have put in a lot of time and effort in refining this new skill and completing their beanies.
Although the immediate goal is to produce handmade projects, it is ultimately hoped that crochet will be a lifelong gift of creativity and giving for each participant.