Meet Union High School's first team rugby captain: Mihlali Tyanase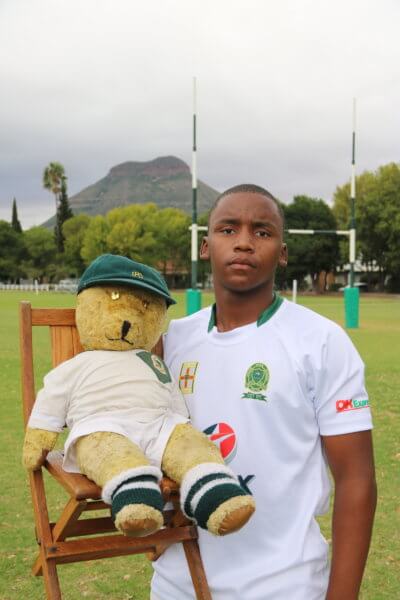 Position: Eighthman
What makes it special to play for Union High School's first team? The Union High School white rugby jersey is exceptionally special because when you put it on, you don't just represent the 2021 1st XVs, but the past, present and future of the school as a whole. Every time I put on my white jersey, I think about who I am doing it for. How will I embody a level of excellence and respect for those who have come before me, and those who will come after? For me, as a boy who grew up in a small village in Keiskammahoek on the outskirts of King William's Town, it is a privilege to be able to play for the Union High School first rugby team.
What would you consider the strong points of your team this year? My team's strongest point has to, most definitely, be the lineouts. That's where we have JJ Liebenberg in the hooker position who has the ability and skill to consistently hit our jumpers. We also have the expertise of Martin van der Berg and Liam Langeveld, both of whom are very skilled jumpers who navigate themselves quite well in the air. We also have skilled powerlifters in Liyema Mjoli, Bubele Thibini and Siphesihle Goliath – these gentlemen do all the lifting.
What motivates you to give your best on the field week after week? For me it is all about leaving the jersey – and what it represents – in a better place than where I found it. This is only achievable by making sure that I play my heart out week in and week out. Knowing that I'm holding my family name up high and making sure that I'm using a talent that God blessed me with to the very best of my ability, also serves to motivate me.
Your team has been together for 5 years.  What makes your team special? Our team's philosophy is "Humility breeds success".  The members of our team continuously show humility by asking themselves, "How can we do this better?" and they're not afraid to put in the hard work to improve their performance. I think that is what makes us special.
What has been your team's greatest achievement over the past 5 years? Our greatest achievement came in our first year playing together as u/14As when we beat our fiercest rivals, Hoër Volkskool, in front of a jam-packed Botanics stadium- that was a very special moment.
Who is the joker of the team and why? The joker has to be Thando Matotie. That oke knows how to get the lads laughing. He has a great sense of humour and is always laughing – even when we're dead tired and doing hill sprints, you'll just suddenly hear him crack a joke that gets everyone laughing.
What is the most enjoyable time after a match? The most enjoyable time after a match is when we get the "W" and we gather in the changing room where the lads take pictures with Sisipho Arnols' phone (best quality) for our various social media platforms. Before the Covid-19 pandemic, my most enjoyable moment was when I'd walk over to my dad after a match and he'd give me a handshake and say, "Well played, son".
Who was your matric hero in Grade 8? In Grade 8, my matric hero was the 2017 first team rugby captain, Ross Stanley. He always made me feel part of the team as its waterboy. That made me look forward to playing for the school's 1st XV.
Choose one:
Tackle or Clean: Tackle
Dummy or Side-step: Dummy
Winning try or winning kick: Winning try.