On Saturday, 15 January, five intrepid Union Scouts – 𝙅𝙅 𝙇𝙞𝙚𝙗𝙚𝙣𝙗𝙚𝙧𝙜, 𝙆𝙮𝙡𝙚 𝙇𝙞𝙚𝙗𝙚𝙣𝙗𝙚𝙧𝙜, 𝙅𝙖𝙮𝙙𝙚𝙣 𝙎𝙬𝙖𝙧𝙩, 𝘼𝙡𝙚𝙭 𝙉𝙚𝙞𝙡𝙡 𝙖𝙣𝙙 𝘽𝙚𝙣 𝙇𝙚𝙢𝙠𝙚 – took off on a hike up Nardousberg accompanied by Old Unionites John Finlaison and Richard Collett.
Armed with meagre food rations which consisted of a few Pro-vita's, a cheese wedge, one apple, a power bar, a carrot and as much water as they could carry, they took on the second highest mountain in the Eastern Cape (2400m).
The hike up was tough, but very well handled by the boys.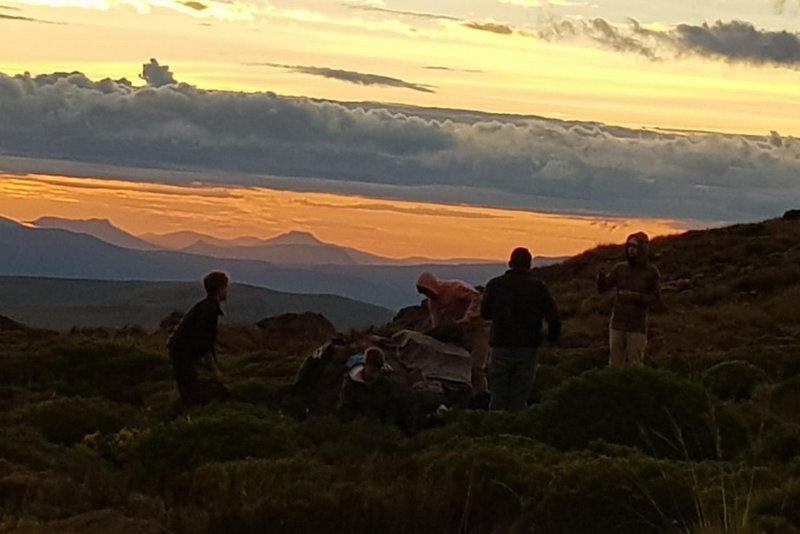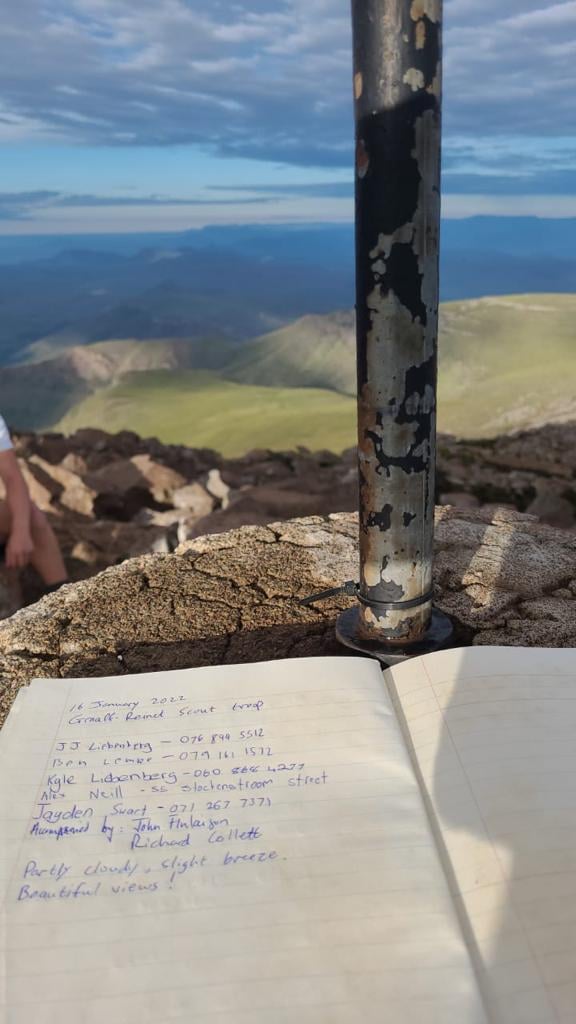 They set up camp at the base of the peak at about 21:00 that night after hiking the last section in the dark and thick mist.
The next morning, the group was greeted by stunning 360˚ views as far as the eye could see and a beautiful sunrise. After the short walk to the beacon at the peak to write their names in the record book, they headed back down, mercifully easier, for a lunch of boerewors rolls and reflection of what was a worthy achievement!
These five young men acquitted themselves very well with good manners and a tough spirit and are a credit to themselves, their school and families, well done!
A word of thanks is extended to Mr Bruce Maree, Graaff-Reinet Scoutmaster, for making all the arrangements for the hike and also to Mr Kobus Olivier who once again allowed the Scouts access to this wonderful piece of land!
• 𝘉𝘰𝘺𝘴 (𝘧𝘳𝘰𝘮 𝘎𝘳𝘢𝘥𝘦 5 𝘵𝘩𝘳𝘰𝘶𝘨𝘩 𝘵𝘰 𝘎𝘳𝘢𝘥𝘦 10) 𝘪𝘯𝘵𝘦𝘳𝘦𝘴𝘵𝘦𝘥 𝘪𝘯 𝘫𝘰𝘪𝘯𝘪𝘯𝘨 𝘚𝘤𝘰𝘶𝘵𝘴, 𝘤𝘢𝘯 𝘥𝘰 𝘴𝘰 𝘰𝘯 𝘢 𝘛𝘩𝘶𝘳𝘴𝘥𝘢𝘺 𝘦𝘷𝘦𝘯𝘪𝘯𝘨 𝘧𝘳𝘰𝘮 18:30 𝘵𝘰 20:30 𝘢𝘵 𝘵𝘩𝘦 𝘊𝘩𝘰𝘰𝘬𝘪𝘦 𝘎𝘦𝘢𝘳𝘥 𝘚𝘤𝘰𝘶𝘵 𝘏𝘢𝘭𝘭. 𝘊𝘰𝘯𝘵𝘢𝘤𝘵 𝘚𝘤𝘰𝘶𝘵 𝘓𝘦𝘢𝘥𝘦𝘳, 𝘔𝘳 𝘉𝘳𝘶𝘤𝘦 𝘔𝘢𝘳𝘦𝘦, 𝘢𝘵 082 783 7027 𝘧𝘰𝘳 𝘮𝘰𝘳𝘦 𝘪𝘯𝘧𝘰𝘳𝘮𝘢𝘵𝘪𝘰𝘯. 𝘛𝘩𝘦 𝘸𝘦𝘦𝘬𝘭𝘺 𝘚𝘤𝘰𝘶𝘵 𝘮𝘦𝘦𝘵𝘪𝘯𝘨𝘴 𝘸𝘪𝘭𝘭 𝘴𝘵𝘢𝘳𝘵 𝘰𝘯 𝘛𝘩𝘶𝘳𝘴𝘥𝘢𝘺, 27 𝘑𝘢𝘯𝘶𝘢𝘳𝘺 2022.