Union High School's 𝟭𝘀𝘁 𝗧𝗘𝗔𝗠 𝗛𝗢𝗖𝗞𝗘𝗬 girls participated in the Gregg Beling Hockey Festival hosted by Mark Taljaard of Tallies Sports this weekend, 18 to 20 March, in East London.
𝗧𝗵𝗲 𝗿𝗲𝘀𝘂𝗹𝘁𝘀 𝘄𝗲𝗿𝗲 𝗮𝘀 𝗳𝗼𝗹𝗹𝗼𝘄𝘀: vs St. Michaels of Bloemfontein 2-0, vs St Mary's DSG of Pretoria 1-0, vs Hoërskool Montana of Pretoria 2-0, vs Cambridge High of East London 2-0.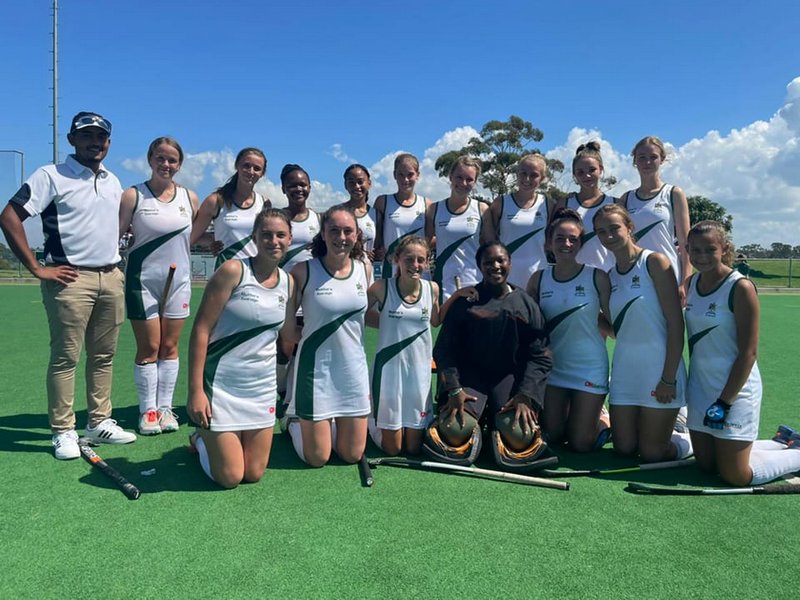 In between visits to the ER, while playing incredibly strong teams, our very young and inexperienced 𝘂/𝟭𝟲𝗔 𝗛𝗢𝗖𝗞𝗘𝗬 𝗧𝗘𝗔𝗠 represented the school very well during this past weekend's u/16 𝙃𝙤𝙘𝙠𝙚𝙮 𝙁𝙚𝙨𝙩𝙞𝙫𝙖𝙡 𝙖𝙩 𝙋𝙚𝙖𝙧𝙨𝙤𝙣 𝙃𝙞𝙜𝙝 𝙎𝙘𝙝𝙤𝙤𝙡 in Gqeberha.
The school is exceptionally proud of this group of girls, who, while facing teams such as DSG, Kingswood, Queenstown Girls' High School and Pearson, left it all on the field, exhausting all possible efforts during every single match they played.
While they didn't manage to record a win, the girls racked up valuable match experience and walked away winners in knowing that this is the start of something great, that together they are stronger and that courage can be found deep within when every muscle is screaming and spirits are low.
𝘜𝘯𝘪𝘰𝘯 𝘏𝘪𝘨𝘩 𝘚𝘤𝘩𝘰𝘰𝘭 𝘦𝘹𝘵𝘦𝘯𝘥𝘴 𝘪𝘵𝘴 𝘨𝘳𝘢𝘵𝘦𝘧𝘶𝘭 𝘵𝘩𝘢𝘯𝘬𝘴 𝘵𝘰 𝘔𝘪𝘴𝘴 𝘼𝙢𝙮 𝘾𝙝𝙖𝙧𝙡𝙚𝙨 𝘢𝘯𝘥 𝘔𝘳𝘴 𝙏𝙚𝙨𝙨 𝙉𝙚𝙞𝙡𝙡 𝘧𝘰𝘳 𝘢𝘴𝘴𝘪𝘴𝘵𝘪𝘯𝘨 𝘵𝘩𝘦 𝘵𝘦𝘢𝘮, 𝘵𝘰 𝘵𝘩𝘦 𝘱𝘢𝘳𝘦𝘯𝘵𝘴 𝘧𝘰𝘳 𝘵𝘩𝘦𝘪𝘳 𝘦𝘯𝘵𝘩𝘶𝘴𝘪𝘢𝘴𝘵𝘪𝘤 𝘴𝘶𝘱𝘱𝘰𝘳𝘵 𝘢𝘯𝘥 𝘵𝘰 𝘦𝘷𝘦𝘳𝘺 𝘴𝘪𝘯𝘨𝘭𝘦 𝘱𝘭𝘢𝘺𝘦𝘳 𝘸𝘩𝘰 𝘱𝘶𝘴𝘩𝘦𝘥 𝘫𝘶𝘴𝘵 𝘢 𝘭𝘪𝘵𝘵𝘭𝘦 𝘣𝘪𝘵 𝘩𝘢𝘳𝘥𝘦𝘳 𝘦𝘷𝘦𝘳𝘺 𝘵𝘪𝘮𝘦 𝘵𝘩𝘦𝘺 𝘵𝘩𝘰𝘶𝘨𝘩𝘵 𝘵𝘩𝘦𝘺 𝘩𝘢𝘥 𝘨𝘪𝘷𝘦𝘯 𝘢𝘭𝘭.