The Union Schools have a new 𝗛𝗘𝗔𝗗 𝗢𝗙 𝗝𝗨𝗡𝗜𝗢𝗥 𝗦𝗣𝗢𝗥𝗧.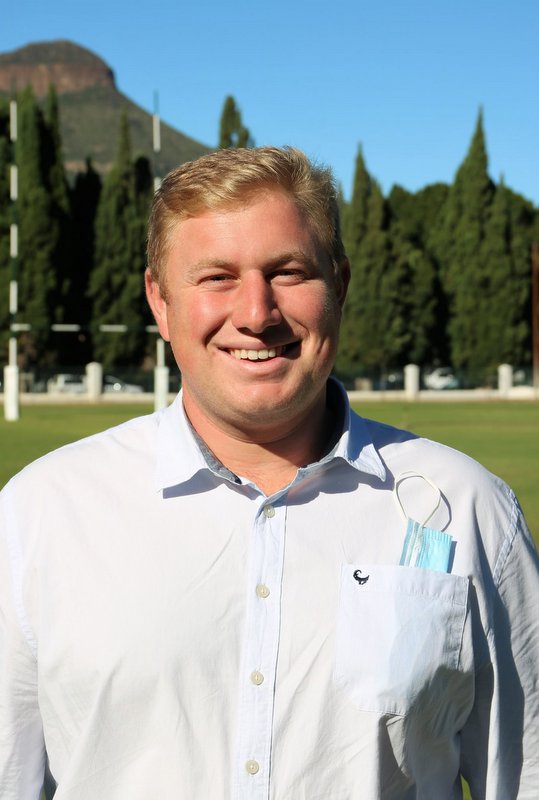 Union Preparatory School, Graaff-Reinet
has appointed Mr
Richard Rautenbach
as the new Head of Junior Sport (Grade 1 to 7), as of Monday, 25 April.
"𝘐𝘵 𝘪𝘴 𝘢𝘯 𝘢𝘣𝘴𝘰𝘭𝘶𝘵𝘦 𝘩𝘰𝘯𝘰𝘶𝘳 𝘵𝘰 𝘫𝘰𝘪𝘯 𝘵𝘩𝘦 𝘜𝘯𝘪𝘰𝘯 𝘚𝘤𝘩𝘰𝘰𝘭𝘴 𝘪𝘯 𝘵𝘩𝘪𝘴 𝘤𝘢𝘱𝘢𝘤𝘪𝘵𝘺. 𝘐'𝘮 𝘷𝘦𝘳𝘺 𝘵𝘩𝘢𝘯𝘬𝘧𝘶𝘭 𝘧𝘰𝘳 𝘵𝘩𝘦 𝘴𝘶𝘱𝘱𝘰𝘳𝘵 𝘐 𝘩𝘢𝘷𝘦 𝘳𝘦𝘤𝘦𝘪𝘷𝘦𝘥 𝘴𝘰 𝘧𝘢𝘳 𝘧𝘳𝘰𝘮 𝘵𝘩𝘦 𝘳𝘦𝘴𝘱𝘦𝘤𝘵𝘪𝘷𝘦 𝘨𝘰𝘷𝘦𝘳𝘯𝘪𝘯𝘨 𝘣𝘰𝘥𝘪𝘦𝘴 𝘢𝘯𝘥 𝘵𝘩𝘦 𝘮𝘦𝘮𝘣𝘦𝘳𝘴 𝘰𝘧 𝘴𝘵𝘢𝘧𝘧. 𝘐𝘵'𝘴 𝘨𝘳𝘦𝘢𝘵 𝘵𝘰 𝘬𝘯𝘰𝘸 𝘵𝘩𝘢𝘵 𝘐'𝘭𝘭 𝘣𝘦 𝘸𝘰𝘳𝘬𝘪𝘯𝘨 𝘸𝘪𝘵𝘩 𝘮𝘦𝘯 𝘢𝘯𝘥 𝘸𝘰𝘮𝘦𝘯 𝘸𝘩𝘰 𝘢𝘳𝘦 𝘤𝘰𝘮𝘮𝘪𝘵𝘵𝘦𝘥 𝘢𝘯𝘥 𝘸𝘪𝘭𝘭𝘪𝘯𝘨 𝘵𝘰 𝘸𝘢𝘭𝘬 𝘵𝘩𝘦 𝘦𝘹𝘵𝘳𝘢 𝘮𝘪𝘭𝘦 𝘵𝘰 𝘮𝘢𝘬𝘦 𝘴𝘶𝘳𝘦 𝘵𝘩𝘢𝘵 𝘸𝘦 𝘰𝘧𝘧𝘦𝘳 𝘰𝘶𝘳 𝘺𝘰𝘶𝘯𝘨𝘴𝘵𝘦𝘳𝘴 𝘵𝘩𝘦 𝘷𝘦𝘳𝘺 𝘣𝘦𝘴𝘵 𝘰𝘱𝘱𝘰𝘳𝘵𝘶𝘯𝘪𝘵𝘪𝘦𝘴 𝘪𝘯 𝘴𝘱𝘰𝘳𝘵," he said.
Mr Rautenbach said his primary objective is to establish an enabling environment and forge new relationships with learners, their parents, educators and coaching staff. "𝘜𝘯𝘪𝘰𝘯 𝘩𝘢𝘴 𝘢 𝘭𝘰𝘵 𝘰𝘧 𝘶𝘯𝘵𝘢𝘱𝘱𝘦𝘥 𝘱𝘰𝘵𝘦𝘯𝘵𝘪𝘢𝘭 𝘪𝘯 𝘪𝘵𝘴 𝘱𝘳𝘪𝘮𝘢𝘳𝘺 𝘥𝘦𝘱𝘢𝘳𝘵𝘮𝘦𝘯𝘵, 𝘢𝘯𝘥 𝘸𝘪𝘵𝘩 𝘨𝘳𝘦𝘢𝘵 𝘧𝘢𝘤𝘪𝘭𝘪𝘵𝘪𝘦𝘴 𝘪𝘯 𝘱𝘭𝘢𝘤𝘦, 𝘢𝘭𝘭 𝘸𝘦 𝘯𝘦𝘦𝘥 𝘵𝘰 𝘥𝘰 𝘪𝘴 𝘱𝘶𝘵 𝘵𝘩𝘦 𝘱𝘳𝘰𝘱𝘦𝘳 𝘴𝘺𝘴𝘵𝘦𝘮𝘴 𝘢𝘯𝘥 𝘴𝘵𝘳𝘶𝘤𝘵𝘶𝘳𝘦𝘴 𝘪𝘯 𝘱𝘭𝘢𝘤𝘦 𝘵𝘩𝘦𝘯 𝘸𝘦 𝘸𝘪𝘭𝘭 𝘥𝘰 𝘨𝘳𝘦𝘢𝘵," he explained.
According to Union Preparatory School principal, Ms Belinda Botha, 𝗥𝗮𝘂𝘁𝗲𝗻𝗯𝗮𝗰𝗵 𝗶𝘀 𝗮 𝗳𝗮𝗻𝘁𝗮𝘀𝘁𝗶𝗰 𝗮𝗰𝗾𝘂𝗶𝘀𝗶𝘁𝗶𝗼𝗻 𝗳𝗼𝗿 𝗨𝗻𝗶𝗼𝗻 𝗦𝗽𝗼𝗿𝘁 𝗮𝗻𝗱 𝘁𝗵𝗲 𝘀𝗰𝗵𝗼𝗼𝗹 𝗶𝗻 𝗴𝗲𝗻𝗲𝗿𝗮𝗹.
"𝘔𝘳 𝘙𝘢𝘶𝘵𝘦𝘯𝘣𝘢𝘤𝘩 𝘩𝘢𝘴 𝘢 𝘸𝘦𝘢𝘭𝘵𝘩 𝘰𝘧 𝘦𝘹𝘱𝘦𝘳𝘪𝘦𝘯𝘤𝘦, 𝘬𝘯𝘰𝘸𝘭𝘦𝘥𝘨𝘦, 𝘭𝘦𝘢𝘥𝘦𝘳𝘴𝘩𝘪𝘱 𝘴𝘬𝘪𝘭𝘭𝘴 𝘢𝘯𝘥 𝘲𝘶𝘢𝘭𝘪𝘵𝘺 𝘳𝘦𝘭𝘢𝘵𝘪𝘰𝘯𝘴𝘩𝘪𝘱𝘴 𝘪𝘯 𝘵𝘩𝘦 𝘴𝘱𝘰𝘳𝘵𝘪𝘯𝘨 𝘢𝘯𝘥 𝘦𝘥𝘶𝘤𝘢𝘵𝘪𝘰𝘯𝘢𝘭 𝘴𝘦𝘤𝘵𝘰𝘳. 𝘐 𝘩𝘢𝘷𝘦 𝘯𝘰 𝘥𝘰𝘶𝘣𝘵 𝘵𝘩𝘢𝘵 𝘸𝘪𝘵𝘩 𝘔𝘳 𝘙𝘢𝘶𝘵𝘦𝘯𝘣𝘢𝘤𝘩 𝘢𝘵 𝘵𝘩𝘦 𝘩𝘦𝘭𝘮, 𝘰𝘶𝘳 𝘫𝘶𝘯𝘪𝘰𝘳 𝘴𝘱𝘰𝘳𝘵𝘴 𝘤𝘢𝘯 𝘰𝘯𝘭𝘺 𝘨𝘰 𝘧𝘳𝘰𝘮 𝘴𝘵𝘳𝘦𝘯𝘨𝘵𝘩 𝘵𝘰 𝘴𝘵𝘳𝘦𝘯𝘨𝘵𝘩," she said.
Mr William Pringle, Headmaster at Union High School, said, "𝘞𝘦 𝘢𝘳𝘦 𝘷𝘦𝘳𝘺 𝘩𝘢𝘱𝘱𝘺 𝘵𝘰 𝘩𝘢𝘷𝘦 𝘙𝘢𝘶𝘵𝘦𝘯𝘣𝘢𝘤𝘩 𝘰𝘯 𝘵𝘩𝘦 𝘵𝘦𝘢𝘮. 𝘞𝘪𝘵𝘩 𝘩𝘪𝘴 𝘢𝘱𝘱𝘰𝘪𝘯𝘵𝘮𝘦𝘯𝘵, 𝘸𝘦 𝘩𝘰𝘱𝘦 𝘵𝘰 𝘦𝘮𝘣𝘢𝘳𝘬 𝘰𝘯 𝘢 𝘲𝘶𝘦𝘴𝘵 𝘵𝘩𝘢𝘵 𝘸𝘪𝘭𝘭 𝘦𝘯𝘴𝘶𝘳𝘦 𝘵𝘩𝘢𝘵 𝘜𝘯𝘪𝘰𝘯 𝘚𝘱𝘰𝘳𝘵 𝘣𝘦𝘤𝘰𝘮𝘦𝘴 𝘢 𝘧𝘰𝘳𝘤𝘦 𝘵𝘰 𝘣𝘦 𝘳𝘦𝘤𝘬𝘰𝘯𝘦𝘥 𝘸𝘪𝘵𝘩."
• Mr Rautenbach comes to Union from Grey High School in Gqeberha where he served as a sports administrator. In addition to having studied Sports Management and Development, Mr Rautenbach also has years of coaching experience in various sporting codes to recommend him.
𝗪𝗲 𝗵𝗼𝗽𝗲 𝘆𝗼𝘂'𝗹𝗹 𝘀𝗵𝗮𝗿𝗲 𝗼𝘂𝗿 𝗲𝘅𝗰𝗶𝘁𝗲𝗺𝗲𝗻𝘁 𝗶𝗻 𝘄𝗲𝗹𝗰𝗼𝗺𝗶𝗻𝗴 𝗵𝗶𝗺 𝘁𝗼 𝗨𝗻𝗶𝗼𝗻 𝗮𝗻𝗱 𝗚𝗿𝗮𝗮𝗳𝗳-𝗥𝗲𝗶𝗻𝗲𝘁!