With technology at their fingertips 24/7, it's more important than ever to ensure that our children are behaving appropriately in the digital world.
The week was kick-started with two workshops – one with the Grade 5s, followed by one with the Grade 6 learners.
𝗙𝗮𝗰𝗶𝗹𝗶𝘁𝗮𝘁𝗲𝗱 𝗯𝘆 𝗘𝘀𝘁𝗲𝗲 𝗖𝗼𝗰𝗸𝗰𝗿𝗼𝗳𝘁, 𝗮 𝗽𝗲𝗿𝘀𝗼𝗻𝗮𝗹 𝗱𝗲𝘃𝗲𝗹𝗼𝗽𝗺𝗲𝗻𝘁, 𝗱𝗶𝗴𝗶𝘁𝗮𝗹 𝗹𝗶𝗳𝗲 𝘀𝗸𝗶𝗹𝗹𝘀 & 𝗿𝗲𝗽𝘂𝘁𝗮𝘁𝗶𝗼𝗻 𝗺𝗮𝗻𝗮𝗴𝗲𝗺𝗲𝗻𝘁 𝗰𝗼𝗮𝗰𝗵 𝗼𝗳 𝗚𝗾𝗲𝗯𝗲𝗿𝗵𝗮-𝗯𝗮𝘀𝗲𝗱 𝗰𝗼𝗺𝗽𝗮𝗻𝘆
Screen Smarts
, the workshops were fun and engaging sessions, aimed at helping our learners reflect on how their digital lives impact their social and emotional well-being and teaching them digital citizenship skills to help them make smart choices online and in life.
Topics covered with the learners included, among other, their digital footprint, online predators, cyberbullying, online privacy and finding a balance between time spent online and in real life.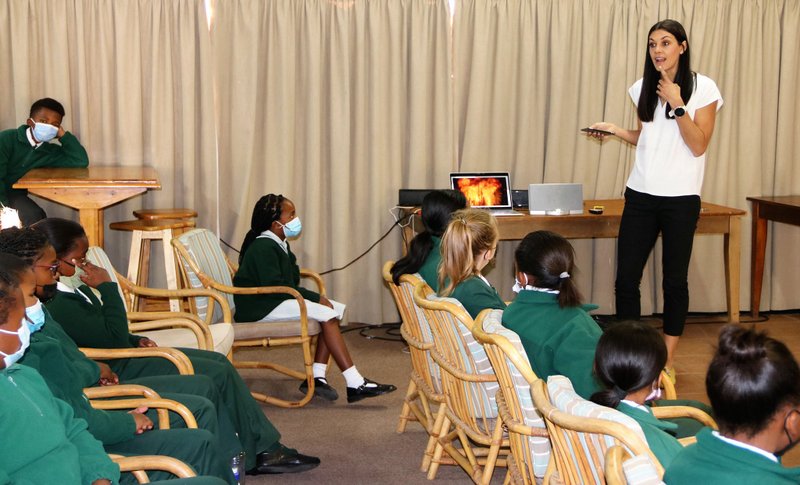 𝘞𝘦 𝘸𝘢𝘯𝘵 𝘵𝘰 𝘭𝘦𝘢𝘷𝘦 𝘵𝘩𝘦 𝘥𝘪𝘨𝘪𝘵𝘢𝘭 𝘭𝘢𝘯𝘥𝘴𝘤𝘢𝘱𝘦 𝘢 𝘣𝘦𝘵𝘵𝘦𝘳 𝘱𝘭𝘢𝘤𝘦 𝘧𝘰𝘳 𝘵𝘩𝘦 𝘯𝘦𝘵𝘪𝘻𝘦𝘯𝘴 𝘰𝘧 𝘵𝘰𝘮𝘰𝘳𝘳𝘰𝘸 𝘢𝘯𝘥 𝘸𝘦 𝘢𝘳𝘦 𝘴𝘰 𝘦𝘹𝘤𝘪𝘵𝘦𝘥 𝘵𝘰 𝘣𝘦 𝘱𝘢𝘳𝘵𝘯𝘦𝘳𝘪𝘯𝘨 𝘸𝘪𝘵𝘩 𝘚𝘤𝘳𝘦𝘦𝘯 𝘚𝘮𝘢𝘳𝘵𝘴 𝘵𝘰 𝘢𝘤𝘩𝘪𝘦𝘷𝘦 𝘫𝘶𝘴𝘵 𝘵𝘩𝘪𝘴!