'𝘊𝘩𝘰𝘰𝘴𝘦 𝘢 𝘫𝘰𝘣 𝘵𝘩𝘢𝘵 𝘺𝘰𝘶 𝘭𝘰𝘷𝘦, 𝘢𝘯𝘥 𝘺𝘰𝘶 𝘸𝘪𝘭𝘭 𝘯𝘦𝘷𝘦𝘳 𝘸𝘰𝘳𝘬 𝘢 𝘥𝘢𝘺 𝘪𝘯 𝘺𝘰𝘶𝘳 𝘭𝘪𝘧𝘦.'
As a part of their Life Orientation curriculum,
Union High School, Graaff-Reinet
's Grade 12s enjoyed various 𝗖𝗔𝗥𝗘𝗘𝗥 𝗪𝗘𝗘𝗞 activities last week.
Representatives from tertiary institutions including Varsity College and CTU gave enlightening presentations during the day, followed by a group of successful Graaff-Reinet business people who addressed the them at a fun function in the Union.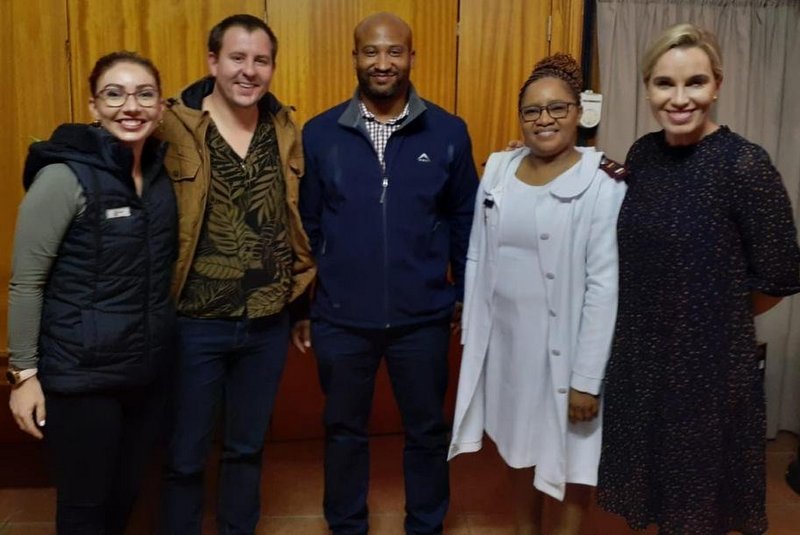 It was fascinating to hear the stories of the 'latticed' manner in which each of these professionals (four of whom grew up in Graaff-Reinet), reached their career dreams. The common thread throughout the evening is that hard work, a never say die attitude and passion are all imperative for a happy career.
The matrics then shared a delicious meal and convivial conversation.
𝘎𝘳𝘢𝘵𝘦𝘧𝘶𝘭 𝘵𝘩𝘢𝘯𝘬𝘴 𝘨𝘰 𝘵𝘰 𝘔𝘢𝘵𝘳𝘰𝘯 𝘚𝘱𝘢𝘳𝘬𝘴, 𝘔𝘳 𝘒𝘪𝘯𝘨𝘸𝘪𝘭𝘭 𝘢𝘯𝘥 𝘋𝘢𝘷𝘪𝘥 𝘓𝘢𝘯𝘨𝘮𝘦𝘢𝘥 𝘸𝘩𝘰 𝘢𝘴𝘴𝘪𝘴𝘵𝘦𝘥, 𝘢𝘴 𝘸𝘦𝘭𝘭 𝘢𝘴 𝘭𝘦𝘢𝘳𝘯𝘦𝘳𝘴 𝘊𝘰𝘭𝘦, 𝘛𝘦𝘴𝘴𝘢, 𝘈𝘢𝘴𝘩𝘪𝘲𝘶𝘦 𝘢𝘯𝘥 𝘠𝘢𝘯𝘥𝘪𝘴𝘸𝘢. 𝘛𝘩𝘢𝘯𝘬𝘴 𝘢𝘳𝘦 𝘢𝘭𝘴𝘰 𝘦𝘹𝘵𝘦𝘯𝘥𝘦𝘥 𝘵𝘰 𝘉𝘦𝘵𝘩𝘮𝘢𝘳𝘦𝘦 𝘉𝘰𝘵𝘩𝘢 𝘸𝘩𝘰 𝘨𝘪𝘧𝘵𝘦𝘥 𝘢𝘭𝘭 𝘰𝘧 𝘵𝘩𝘰𝘴𝘦 𝘱𝘳𝘦𝘴𝘦𝘯𝘵 𝘸𝘪𝘵𝘩 𝘢𝘯 𝘢𝘳𝘵𝘪𝘴𝘢𝘯 𝘤𝘶𝘱𝘤𝘢𝘬𝘦.