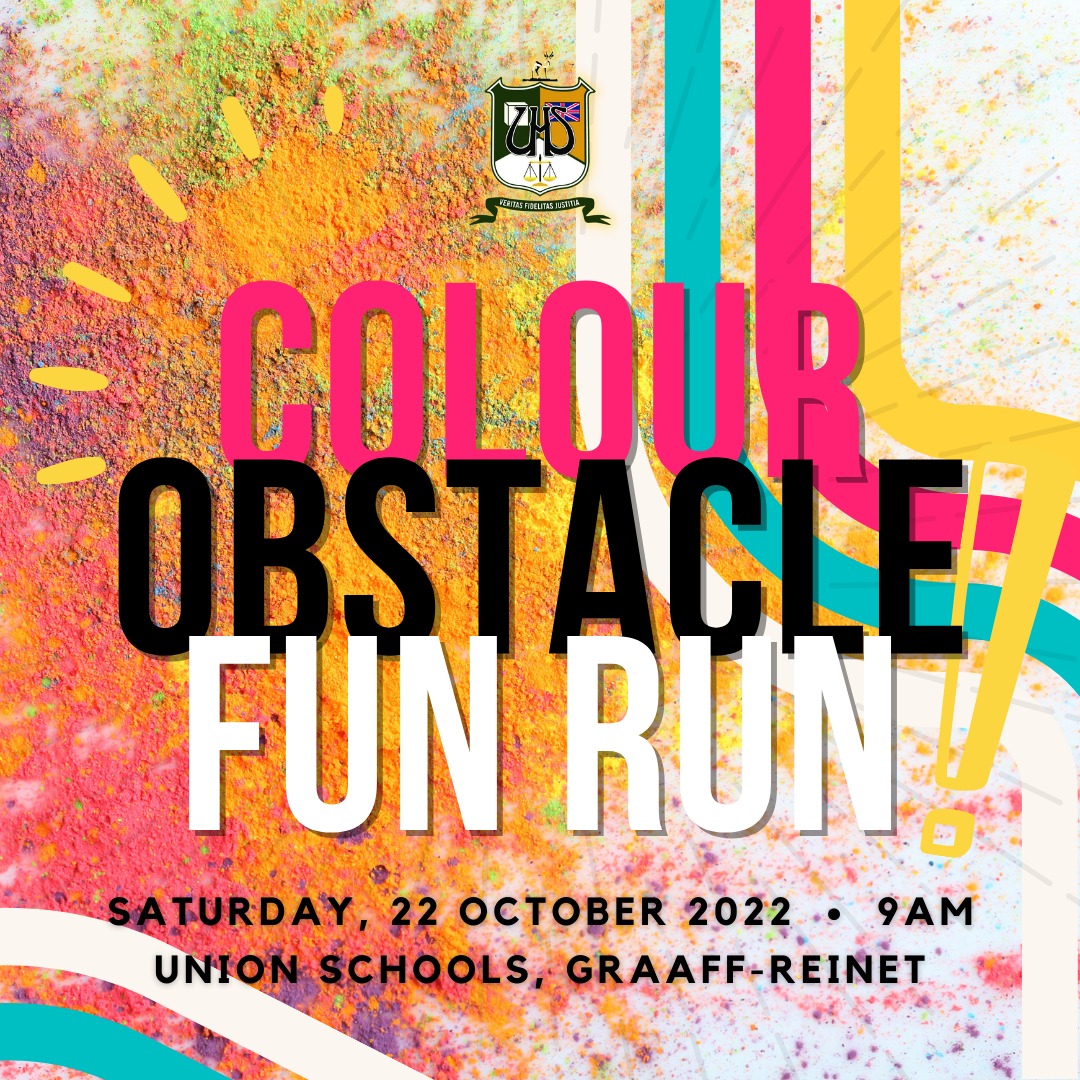 Save the date for the 𝗠𝗢𝗦𝗧 𝗙𝗨𝗡 𝟱𝗞 𝗥𝗨𝗡 of the year!
Not only will you be able to challenge yourself physically, but you'll have a ton of fun while doing so!
𝘛𝘩𝘦 𝘜𝘯𝘪𝘰𝘯 𝘚𝘤𝘩𝘰𝘰𝘭𝘴' 𝘊𝘰𝘭𝘰𝘶𝘳 𝘖𝘣𝘴𝘵𝘢𝘤𝘭𝘦 𝘍𝘶𝘯 𝘙𝘶𝘯 𝘪𝘴 𝘢 𝘶𝘯𝘪𝘲𝘶𝘦 𝘦𝘷𝘦𝘯𝘵 𝘤𝘰𝘮𝘣𝘪𝘯𝘪𝘯𝘨 𝘵𝘩𝘦 𝘧𝘶𝘯 𝘰𝘧 𝘤𝘰𝘭𝘰𝘶𝘳 𝘱𝘰𝘸𝘥𝘦𝘳𝘦𝘥 𝘳𝘶𝘯𝘴, 𝘵𝘩𝘦 𝘵𝘩𝘳𝘪𝘭𝘭 𝘰𝘧 𝘢𝘯 𝘰𝘣𝘴𝘵𝘢𝘤𝘭𝘦 𝘤𝘰𝘶𝘳𝘴𝘦, 𝘢𝘯𝘥 𝘵𝘩𝘦 𝘢𝘵𝘮𝘰𝘴𝘱𝘩𝘦𝘳𝘦 𝘰𝘧 𝘢 𝘮𝘶𝘴𝘪𝘤 𝘧𝘦𝘴𝘵𝘪𝘷𝘢𝘭. 𝘐𝘵 𝘸𝘪𝘭𝘭 𝘣𝘦 𝘢 𝘣𝘭𝘢𝘴𝘵!
𝟰 𝗢𝗕𝗦𝗧𝗔𝗖𝗟𝗘𝗦
𝗠𝗨𝗦𝗜𝗖 𝗦𝗧𝗔𝗧𝗜𝗢𝗡𝗦
𝗙𝗢𝗔𝗠 𝗭𝗢𝗡𝗘
𝗖𝗢𝗟𝗢𝗨𝗥 𝗦𝗛𝗢𝗪𝗘𝗥𝗦
𝗔𝗡𝗗 𝗠𝗨𝗖𝗛 𝗠𝗢𝗥𝗘!
The event is open to the entire community! Although this is a 'running' event, the race is designed to be fun rather than crazy challenging, and is suitable for practically everyone!
𝗥𝗲𝗴𝗶𝘀𝘁𝗿𝗮𝘁𝗶𝗼𝗻 𝗼𝗽𝗲𝗻𝘀 𝗶𝗻 𝗦𝗲𝗽𝘁𝗲𝗺𝗯𝗲𝗿!
𝘛𝘩𝘪𝘴 𝘳𝘦𝘢𝘭𝘭𝘺 𝘪𝘴 𝘢𝘯 𝘦𝘷𝘦𝘯𝘵 𝘺𝘰𝘶 𝘴𝘩𝘰𝘶𝘭𝘥𝘯'𝘵 𝘮𝘪𝘴𝘴. 𝘑𝘰𝘪𝘯 𝘵𝘩𝘦 𝘧𝘶𝘯!