"𝘈 𝘳𝘢𝘯𝘥𝘰𝘮 𝘢𝘤𝘵 𝘰𝘧 𝘬𝘪𝘯𝘥𝘯𝘦𝘴𝘴, 𝘯𝘰 𝘮𝘢𝘵𝘵𝘦𝘳 𝘩𝘰𝘸 𝘴𝘮𝘢𝘭𝘭, 𝘤𝘢𝘯 𝘮𝘢𝘬𝘦 𝘢 𝘵𝘳𝘦𝘮𝘦𝘯𝘥𝘰𝘶𝘴 𝘪𝘮𝘱𝘢𝘤𝘵 𝘰𝘯 𝘴𝘰𝘮𝘦𝘰𝘯𝘦 𝘦𝘭𝘴𝘦'𝘴 𝘭𝘪𝘧𝘦." – Roy T. Bennett
Union High School's Interact Club invites you to participate in their 𝗝𝗔𝗥𝗦 𝗢𝗙 𝗛𝗢𝗣𝗘 project.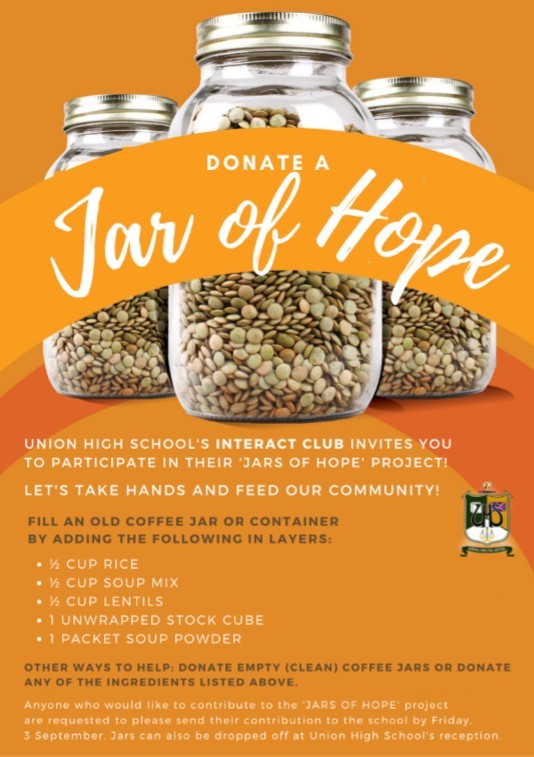 You can help in any of these ways:
1. Donate empty (clean) coffee jars.
2. Donate any ingredient(s) listed below
3. Donate a filled jar (containing the ingredients listed below)
4. Share this post
Layer a large jar with:
½ cup rice
½ cup lentils
½ cup soup mix
1 unwrapped stock cube
1 packet of soup powder
The smallest contribution can make a huge difference in someone else's life.
Let's take hands and feed our community!
• Contributions can be sent to school with a learner, dropped off at Union High School's reception, or contact us at 049 8910262 to arrange pick-up.