Union High School was filled with exuberance and excitement today, Friday, 10 September, as our 2021/2022 prefect body was announced during a special early-morning outdoor assembly.
Our new leaders will be the ambassadors whose actions inspire others to dream, to learn, to hope and to be the best version of themselves.
We wish them courage and kindness to see them through.
𝗖𝗢𝗡𝗚𝗥𝗔𝗧𝗨𝗟𝗔𝗧𝗜𝗢𝗡𝗦 𝘁𝗼 Sisipho Arnols, Matthew Basson, Mohamed Hartley, Ruzhe Hendricks, Tamsin James, Tessa James, Kendall Krige, JJ Liebenberg, Asa Matross, Matthew McNaughton, Grace Merifield, Lisakhanya Mvandaba, Daniel Nell, Buhlebethu Rolomane, Chloe Shires and Bubele Thibini for your well-earned selection.
To conclude the 2021/22 prefect induction ceremony on Friday morning, 10 September, our new prefect body made their way to the headmaster's office to sign the prefects' book and pledge.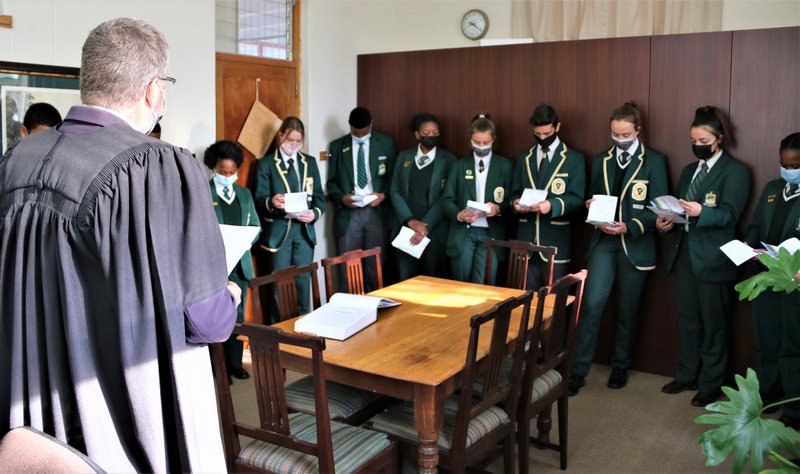 Signing this book is a symbolic gesture of their commitment to their new roles.
𝗣𝗥𝗘𝗙𝗘𝗖𝗧𝗦' 𝗣𝗟𝗘𝗗𝗚𝗘
𝘐 𝘱𝘭𝘦𝘥𝘨𝘦 𝘮𝘺𝘴𝘦𝘭𝘧 𝘵𝘰 𝘥𝘰 𝘢𝘭𝘭 𝘪𝘯
𝘮𝘺 𝘱𝘰𝘸𝘦𝘳 𝘵𝘰 𝘣𝘦 𝘸𝘰𝘳𝘵𝘩𝘺 𝘰𝘧
𝘵𝘩𝘦 𝘩𝘪𝘨𝘩 𝘰𝘧𝘧𝘪𝘤𝘦 𝘰𝘧 𝘱𝘳𝘦𝘧𝘦𝘤𝘵,
𝘵𝘰 𝘴𝘵𝘢𝘯𝘥 𝘧𝘢𝘴𝘵 𝘵𝘰 𝘵𝘩𝘦 𝘪𝘥𝘦𝘢𝘭𝘴
𝘰𝘧 𝘴𝘦𝘳𝘷𝘪𝘤𝘦, 𝘵𝘰 𝘰𝘣𝘴𝘦𝘳𝘷𝘦 𝘵𝘩𝘦
𝘳𝘶𝘭𝘦𝘴 𝘰𝘧 𝘧𝘢𝘪𝘳 𝘱𝘭𝘢𝘺, 𝘵𝘰
𝘳𝘦𝘴𝘱𝘦𝘤𝘵 𝘵𝘩𝘦 𝘥𝘪𝘨𝘯𝘪𝘵𝘺 𝘰𝘧
𝘮𝘢𝘯, 𝘵𝘰 𝘣𝘦 𝘥𝘢𝘶𝘯𝘵𝘭𝘦𝘴𝘴 𝘪𝘯 𝘵𝘩𝘦
𝘦𝘹𝘦𝘤𝘶𝘵𝘪𝘰𝘯 𝘰𝘧 𝘮𝘺 𝘥𝘶𝘵𝘪𝘦𝘴 𝘪𝘯
𝘵𝘩𝘦 𝘧𝘢𝘤𝘦 𝘰𝘧 𝘰𝘱𝘱𝘰𝘴𝘪𝘵𝘪𝘰𝘯 𝘢𝘯𝘥
𝘶𝘯𝘱𝘰𝘱𝘶𝘭𝘢𝘳𝘪𝘵𝘺, 𝘢𝘯𝘥 𝘦𝘷𝘦𝘳 𝘵𝘰
𝘮𝘢𝘪𝘯𝘵𝘢𝘪𝘯 𝘵𝘩𝘦 𝘧𝘢𝘪𝘳 𝘯𝘢𝘮𝘦 𝘰𝘧
𝘰𝘶𝘳 𝘴𝘤𝘩𝘰𝘰𝘭, 𝘜𝘕𝘐𝘖𝘕 𝘏𝘐𝘎𝘏.
Union High School, once again, extends its congratulations to the new leaders for 2021/22, but would also like to take this opportunity to thank our outgoing prefects for their leadership throughout this past year.