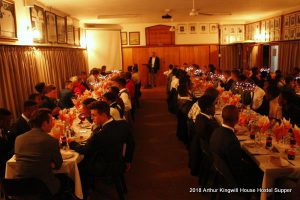 The gentlemen of Arthur Kingwill House held their annual dinner in the Tony Burrell Union on Thursday evening, 30 August. The Union was beautifully decorated by Mrs Kingwill and the hostel matrons.
Mr Kingwill, Boarding Superintendent, welcomed the guests and thanked all those who had contributed to the success and happiness of the past year, particularly the 2018 Grade 12 class and prefect body under the leadership of Michael Krige. They have led the boarding house with quiet dignity and a passion for the school which is unrivalled in recent years.
One of the Grade 12 boys was recently heard to say: When I arrived at AKH in Grade 5, a Grade 12 boy helped me carry my luggage up to my room. At the time, this was unheard of. Now, it is unheard of that a Grade 12 boy will not help a junior boy in this way. What a wonderful testimony to the healthy culture that exists in our home-away-from-home for our children!
Mr Kingwill always has a message for the boys, and this year, a moving and inspirational video entitled "Leaders Eat Last" provided those present with much food for thought about what true leadership entails, and why some teams pull together and others don't.
The boys, led by Konke Koyingana, entertained the guests with their beautiful singing, a part of the evening which always highlights the spirit of the boarding house, and provides outsiders with a small glimpse of behind-the-scenes hostel life.
Congratulations to the following boarders who were elected as the 2019 Arthur Kingwill House prefects:
Khanya Butshingi (Head Boy), Luke McNaughton, Peter Watermeyer, Iviwe Ndamane (Deputy Head), Lihlombe Qambata and Zusakhe Ngwane