This year the date of the Matric Farewell Dance was brought forward to February, setting the tone for a year of beauty, unity and the hope of some Rain for our Matric class of 2019! The Grade 11's had the challenging task of raising as much money as they could in a very short time, and under pressure pulled off an excellent event very close to the start of the year.
The venue changed to the Botanics, which proved to be a fitting backdrop to showcase the beautiful young ladies and handsome gentlemen as they alighted from their carefully selected modes of transport against the backdrop of the Karoo. Parents and supporters streamed in to view the Matrics and their partners as they were welcomed by Master of Ceremonies Ashwon Davids, Brett Amsterdam and William Kayster.
On entering the outside venue, delicious canapés made by Muller House were served under a starry sky and welcome drinks were enjoyed by all on this sultry summer's evening.   The outside courtyard had been transformed into an elegant welcome lounge and the guests had some time to admire one another's outfits and mingle with their classmates and teachers.  The theme this year was 'Rain' which was made evident on entering the Botanics hall.  Puffy clouds with ploppy drops swirled around the gorgeous dresses as they entered the venue.  The hall had been transformed into an elegantly simple celebration of rain, with an installation of 100 umbrellas forming a fitting centrepiece over the dancefloor.  The décor was light, white and elegant – a perfect backdrop to the trending colours of maroon, teal and deep reds in which the matrics were adorned.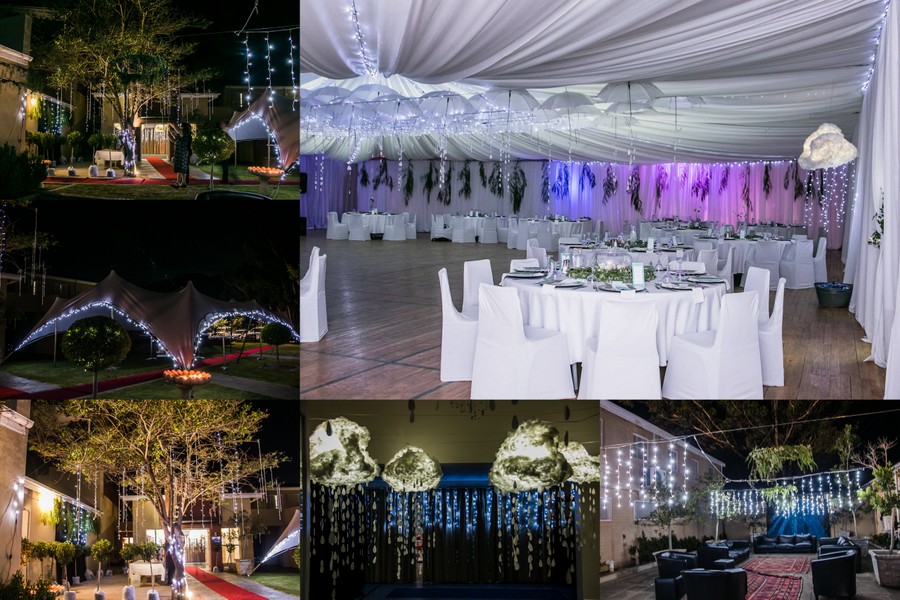 Head convenor, Jade Shires welcomed the guests before Head Girl Jenna McNaughton paid tribute to the grade – reminding everyone that this was the beginning of a wonderful year, and a start to beautiful memories.   Hoër Volkskool Headboy, Chris Burger, gave a speech of gratitude and Bowen Langmead said grace before the meal.   Muller house provided a delicious feast of fillet steaks and chicken pie, and the dessert was out of this world – complete with a delicious raindrop!  Decorating and raising funds aside, the Grade 11s also performed a fun dance which fitted well with the theme of 'rain', and grateful thanks go to Mrs Putter who choreographed the dancers.  Then the dancing began!  As always, the dancing is always a colourful mix of all styles and music, and everyone had a ball!  Towards the end of the evening, Sakhe Booi made a speech of gratitude to all those who had made the evening possible, and a beaming Lauren Rose-Innes proposed a toast to 'The amazing class of 2019'!
The Matric Dance is an important rite of passage in the lives of all matriculants. It is a celebration of precious children on the cusp of adulthood and much thought and energy is put into each little detail from the dress to the shoes, to the tiepin, hair, makeup and hat and car.  Congratulations to the Grade 11 committee, Ms Vona van Rensburg and the team of hardworking parents who provided the platform for this night to remember, 'Dancing in the Rain.''