"𝘛𝘩𝘢𝘵'𝘴 𝘵𝘩𝘦 𝘵𝘩𝘪𝘯𝘨 𝘢𝘣𝘰𝘶𝘵 𝘣𝘰𝘰𝘬𝘴. 𝘛𝘩𝘦𝘺 𝘭𝘦𝘵 𝘺𝘰𝘶 𝘵𝘳𝘢𝘷𝘦𝘭 𝘸𝘪𝘵𝘩𝘰𝘶𝘵 𝘮𝘰𝘷𝘪𝘯𝘨 𝘺𝘰𝘶𝘳 𝘧𝘦𝘦𝘵." — 𝗝𝗵𝘂𝗺𝗽𝗮 𝗟𝗮𝗵𝗶𝗿𝗶
Author Mr Alan Landau, who currently resides in Australia, recently published the sixth and final book in his 'Langbourne' series, titled 'Langbourne's Legacy'.
Although this book isn't available in South Africa as yet, Union was extremely fortunate to be gifted two of them by Mr Landau, to complete the two sets of this series he donated to the school in 2019.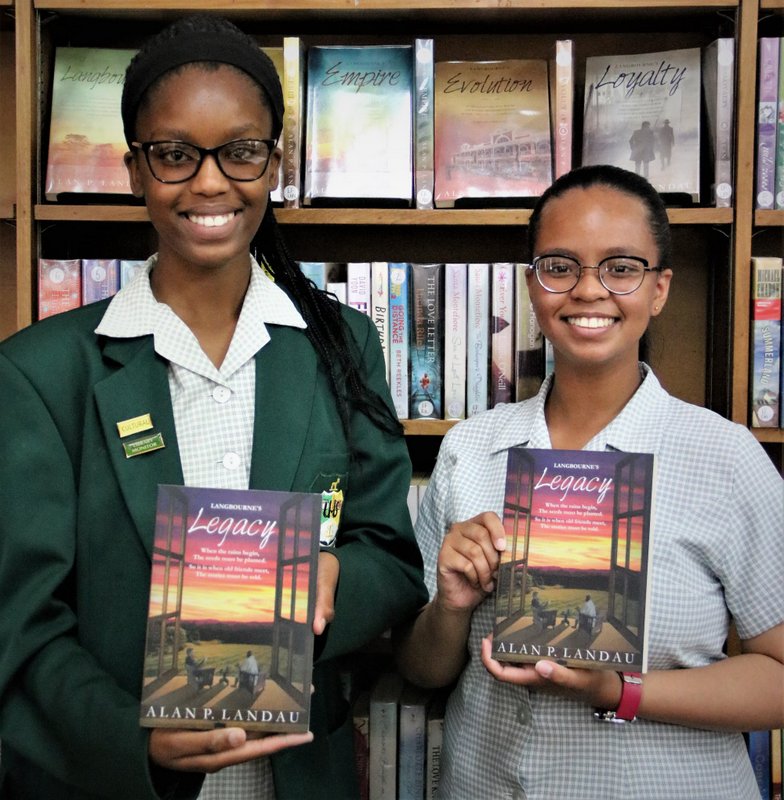 We are extremely grateful to Mr Landau for this gesture. The learners have loved following David and Morris Langbourne on their epic African adventure and we're sure that many are looking forward to – what is sure to be – its epic conclusion.
Seen here are library monitors and bookworms of note, Precious Nobula and Keisha Mentoor, with the copies of 'Langbourne's Legacy'.