𝗖𝗢𝗡𝗚𝗥𝗔𝗧𝗨𝗟𝗔𝗧𝗜𝗢𝗡𝗦 to
Union High School, Graaff-Reinet
hockey players, Misha Newton, Leigh-Ann Murray, Caytah-Leigh Koeberg and Sadé May, who were selected to represent EP Hockey!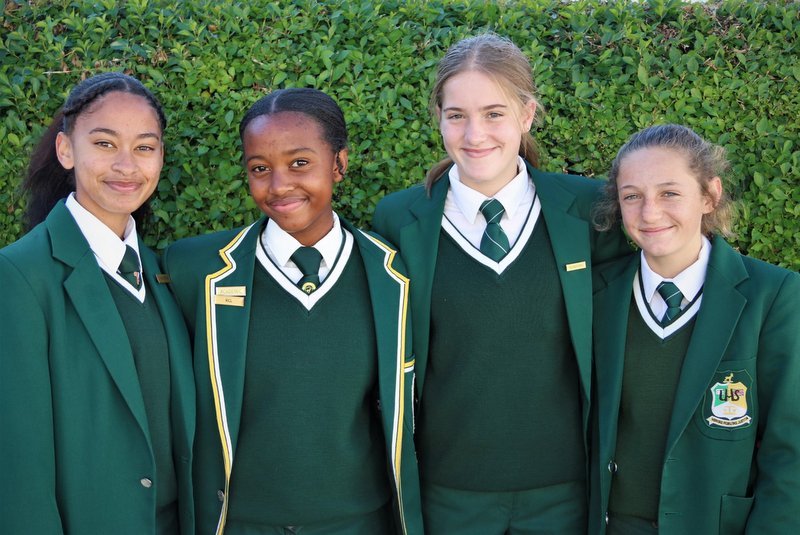 While Misha and Leigh-Ann were selected for the u/14B side, Caytah-Leigh and Sadé will represent the u/16B side.
"𝘗𝘭𝘢𝘺𝘪𝘯𝘨 𝘢𝘵 𝘱𝘳𝘰𝘷𝘪𝘯𝘤𝘪𝘢𝘭 𝘭𝘦𝘷𝘦𝘭 𝘢𝘧𝘧𝘰𝘳𝘥𝘴 𝘱𝘭𝘢𝘺𝘦𝘳𝘴 𝘵𝘩𝘦 𝘰𝘱𝘱𝘰𝘳𝘵𝘶𝘯𝘪𝘵𝘺 𝘵𝘰 𝘱𝘢𝘳𝘵𝘪𝘤𝘪𝘱𝘢𝘵𝘦 𝘢𝘵 𝘵𝘩𝘦 𝘩𝘪𝘨𝘩𝘦𝘴𝘵 𝘭𝘦𝘷𝘦𝘭 𝘢𝘯𝘥 𝘨𝘳𝘰𝘸 𝘵𝘩𝘦𝘪𝘳 𝘴𝘬𝘪𝘭𝘭𝘴 𝘵𝘩𝘳𝘰𝘶𝘨𝘩 𝘵𝘩𝘦 𝘦𝘹𝘱𝘦𝘳𝘪𝘦𝘯𝘤𝘦," said Union's Head of Hockey, Mr Calvin Beck. "𝘞𝘦 𝘢𝘳𝘦 𝘪𝘯𝘤𝘳𝘦𝘥𝘪𝘣𝘭𝘺 𝘱𝘳𝘰𝘶𝘥 𝘰𝘧 𝘦𝘢𝘤𝘩 𝘢𝘯𝘥 𝘦𝘷𝘦𝘳𝘺 𝘰𝘯𝘦 𝘰𝘧 𝘵𝘩𝘦𝘮 𝘢𝘯𝘥 𝘸𝘪𝘴𝘩 𝘵𝘩𝘦𝘮 𝘢𝘭𝘭 𝘵𝘩𝘦 𝘣𝘦𝘴𝘵 𝘨𝘰𝘪𝘯𝘨 𝘧𝘰𝘳𝘸𝘢𝘳𝘥."
𝗖𝗢𝗡𝗚𝗥𝗔𝗧𝗨𝗟𝗔𝗧𝗜𝗢𝗡𝗦 to
Union High School, Graaff-Reinet
rugby players, JJ Liebenberg and Bubele Thibini, on being selected to represent the Eastern Province u/18 Academy Week side that will be competing at the upcoming u/18 SA Academy Week, being held at the Huguenot High School in Wellington from 3 to 9 July.
𝘞𝘦 𝘸𝘪𝘴𝘩 𝘑𝘑, 𝘉𝘶𝘣𝘦𝘭𝘦 𝘢𝘯𝘥 𝘵𝘩𝘦 𝘳𝘦𝘴𝘵 𝘰𝘧 𝘵𝘩𝘦𝘪𝘳 𝘵𝘦𝘢𝘮 𝘵𝘩𝘦 𝘣𝘦𝘴𝘵 𝘰𝘧 𝘭𝘶𝘤𝘬 𝘢𝘴 𝘵𝘩𝘦𝘺 𝘱𝘳𝘦𝘱𝘢𝘳𝘦 𝘧𝘰𝘳 𝘵𝘩𝘪𝘴 𝘵𝘰𝘶𝘳𝘯𝘢𝘮𝘦𝘯𝘵.