The addition of three new 'state of the art' classrooms – to meet the needs of the increasing numbers of learners at Union High School, Graaff-Reinet – was celebrated at a special ceremony on Thursday evening, 4 May.
The event was attended by parents, members of staff, school governing body members and Eastern Cape Department of Education officials, with Union High School's Governing Body chairman, Mr Kelvin Kayster, being asked to cut the ribbon.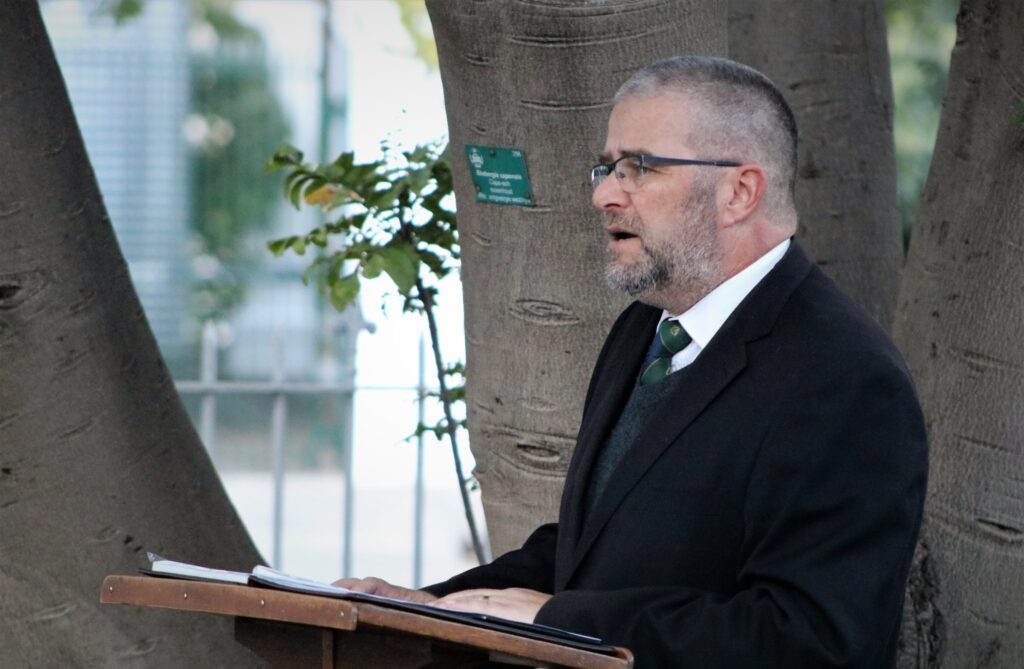 Speaking at the event, Union High School Headmaster, Mr William Pringle commented on the impact and importance of these new classrooms, stating that the classrooms commanded a new sense of dedication and inspiration which will enhance learning at Union for years to come.
The three new classrooms (currently being utilised by the learners in the school's primary department) also forms part of 𝙖 𝙘𝙤𝙣𝙩𝙞𝙣𝙪𝙞𝙣𝙜 𝙘𝙡𝙖𝙨𝙨𝙧𝙤𝙤𝙢 𝙧𝙚𝙣𝙚𝙬𝙖𝙡 𝙥𝙧𝙤𝙟𝙚𝙘𝙩, initiated in 2021, which aims to bring all classrooms up to an agreed standard in terms of physical facilities and audio-visual / information technology.
"𝘛𝘦𝘢𝘤𝘩𝘪𝘯𝘨 𝘢𝘯𝘥 𝘭𝘦𝘢𝘳𝘯𝘪𝘯𝘨 𝘭𝘪𝘦 𝘢𝘵 𝘵𝘩𝘦 𝘤𝘰𝘳𝘦 𝘰𝘧 𝘜𝘯𝘪𝘰𝘯'𝘴 𝘢𝘤𝘵𝘪𝘷𝘪𝘵𝘪𝘦𝘴, 𝘢𝘯𝘥 𝘸𝘪𝘵𝘩 𝘵𝘩𝘪𝘴 𝘱𝘳𝘰𝘫𝘦𝘤𝘵 𝘸𝘦 𝘴𝘦𝘵 𝘰𝘶𝘵 𝘵𝘰 𝘪𝘮𝘱𝘳𝘰𝘷𝘦 𝘵𝘩𝘰𝘴𝘦 𝘦𝘹𝘱𝘦𝘳𝘪𝘦𝘯𝘤𝘦𝘴 𝘣𝘺 𝘣𝘶𝘪𝘭𝘥𝘪𝘯𝘨 𝘤𝘭𝘢𝘴𝘴𝘳𝘰𝘰𝘮𝘴 𝘵𝘰 𝘢 𝘩𝘪𝘨𝘩𝘦𝘳 𝘴𝘵𝘢𝘯𝘥𝘢𝘳𝘥 𝘵𝘩𝘢𝘵 𝘮𝘢𝘹𝘪𝘮𝘪𝘴𝘦𝘴 𝘧𝘭𝘦𝘹𝘪𝘣𝘪𝘭𝘪𝘵𝘺. 𝘞𝘦 𝘸𝘢𝘯𝘵𝘦𝘥 𝘵𝘰 𝘤𝘳𝘦𝘢𝘵𝘦 𝘤𝘭𝘢𝘴𝘴𝘳𝘰𝘰𝘮𝘴 𝘤𝘰𝘯𝘥𝘶𝘤𝘪𝘷𝘦 𝘵𝘰 𝘢𝘴 𝘮𝘢𝘯𝘺 𝘥𝘪𝘧𝘧𝘦𝘳𝘦𝘯𝘵 𝘱𝘦𝘥𝘢𝘨𝘰𝘨𝘪𝘤𝘢𝘭 𝘢𝘱𝘱𝘳𝘰𝘢𝘤𝘩𝘦𝘴 𝘢𝘴 𝘱𝘰𝘴𝘴𝘪𝘣𝘭𝘦," explained Union SGB member, Mr Grant Lemke.
"𝘐𝘯 𝘢𝘥𝘥𝘪𝘵𝘪𝘰𝘯 𝘵𝘰 𝘵𝘩𝘦 𝘳𝘦𝘤𝘦𝘯𝘵𝘭𝘺 𝘳𝘦𝘯𝘰𝘷𝘢𝘵𝘦𝘥 𝘴𝘤𝘪𝘦𝘯𝘤𝘦 𝘭𝘢𝘣𝘰𝘳𝘢𝘵𝘰𝘳𝘺, 𝘵𝘩𝘦𝘴𝘦 𝘵𝘩𝘳𝘦𝘦 𝘯𝘦𝘸 𝘷𝘦𝘯𝘶𝘦𝘴 𝘮𝘢𝘬𝘦 𝘶𝘱 𝘵𝘩𝘦 𝘧𝘪𝘳𝘴𝘵 𝘣𝘢𝘵𝘤𝘩 𝘰𝘧 𝘤𝘭𝘢𝘴𝘴𝘳𝘰𝘰𝘮𝘴 𝘵𝘩𝘢𝘵 𝘢𝘥𝘩𝘦𝘳𝘦 𝘵𝘰 𝘜𝘯𝘪𝘰𝘯'𝘴 𝘯𝘦𝘸𝘭𝘺-𝘪𝘯𝘵𝘳𝘰𝘥𝘶𝘤𝘦𝘥 𝘤𝘭𝘢𝘴𝘴𝘳𝘰𝘰𝘮 𝘴𝘵𝘢𝘯𝘥𝘢𝘳𝘥𝘴."
While the project involved the construction of the classrooms from the ground up, the most exciting developments focused on improving the teaching and learning experience. In addition to fully interactive whiteboards, new data projectors, high quality sound equipment and air conditioning units being installed, teaching walls and learner desks were reimagined to provide flexible teaching options.
𝘛𝘩𝘪𝘴 𝘪𝘴 𝘢𝘯 𝘦𝘹𝘤𝘦𝘭𝘭𝘦𝘯𝘵 𝘯𝘦𝘸 𝘦𝘹𝘵𝘦𝘯𝘴𝘪𝘰𝘯 𝘵𝘰 𝘵𝘩𝘦 𝘧𝘢𝘤𝘪𝘭𝘪𝘵𝘪𝘦𝘴 𝘢𝘵 𝘜𝘯𝘪𝘰𝘯 𝘢𝘯𝘥 𝘸𝘪𝘭𝘭 𝘱𝘳𝘰𝘷𝘪𝘥𝘦 𝘭𝘦𝘢𝘳𝘯𝘦𝘳𝘴 𝘸𝘪𝘵𝘩 𝘢 𝘵𝘳𝘶𝘭𝘺 𝘴𝘵𝘪𝘮𝘶𝘭𝘢𝘵𝘪𝘯𝘨 𝘢𝘵𝘮𝘰𝘴𝘱𝘩𝘦𝘳𝘦 𝘪𝘯 𝘸𝘩𝘪𝘤𝘩 𝘵𝘩𝘦𝘺 𝘤𝘢𝘯 𝘵𝘰 𝘭𝘦𝘢𝘳𝘯 𝘢𝘯𝘥 𝘵𝘩𝘳𝘪𝘷𝘦. 𝘈𝘵 𝘜𝘯𝘪𝘰𝘯, 𝘸𝘦 𝘢𝘳𝘦 𝘤𝘰𝘮𝘮𝘪𝘵𝘵𝘦𝘥 𝘵𝘰 𝘢𝘭𝘭 𝘰𝘧 𝘰𝘶𝘳 𝘢𝘤𝘢𝘥𝘦𝘮𝘪𝘦𝘴 𝘦𝘯𝘢𝘣𝘭𝘪𝘯𝘨 𝘺𝘰𝘶𝘯𝘨 𝘱𝘦𝘰𝘱𝘭𝘦 𝘵𝘰 𝘨𝘰 𝘰𝘯 𝘢𝘯𝘥 𝘭𝘦𝘢𝘥 𝘳𝘦𝘮𝘢𝘳𝘬𝘢𝘣𝘭𝘦 𝘭𝘪𝘷𝘦𝘴, 𝘢𝘯𝘥 𝘪𝘵 𝘩𝘢𝘴 𝘣𝘦𝘦𝘯 𝘨𝘳𝘦𝘢𝘵 𝘵𝘰 𝘴𝘦𝘦 𝘩𝘰𝘸 𝘵𝘩𝘳𝘪𝘭𝘭𝘦𝘥 𝘵𝘩𝘦𝘺 𝘢𝘭𝘭 𝘢𝘳𝘦 𝘸𝘪𝘵𝘩 𝘵𝘩𝘦𝘪𝘳 '𝘴𝘵𝘢𝘵𝘦 𝘰𝘧 𝘵𝘩𝘦 𝘢𝘳𝘵' 𝘯𝘦𝘸 𝘧𝘢𝘤𝘪𝘭𝘪𝘵𝘪𝘦𝘴," concluded Mr Lemke.