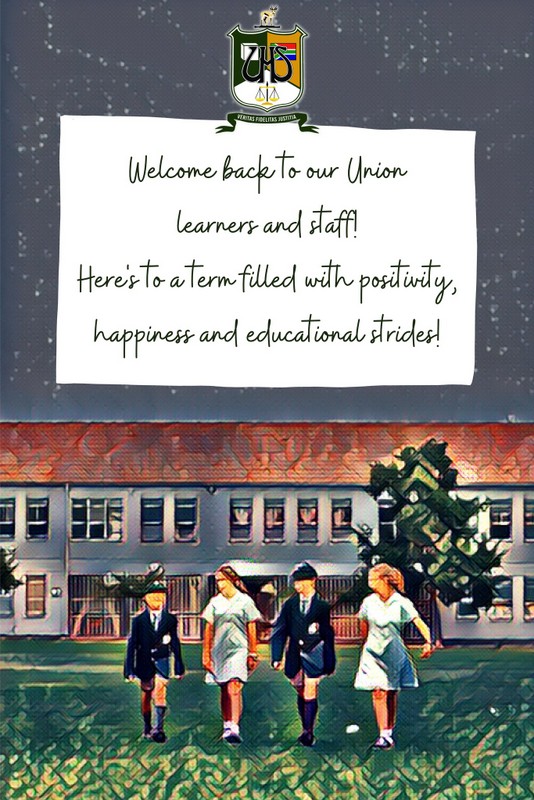 𝗪𝗘𝗟𝗖𝗢𝗠𝗘 𝗕𝗔𝗖𝗞, learners and staff, to the start of our third term at Union High School, Graaff-Reinet!
We hope you all had a rejuvenating break and are ready to dive back into our educational journey together.
𝘓𝘦𝘢𝘳𝘯𝘦𝘳𝘴, 𝘸𝘦 𝘦𝘯𝘤𝘰𝘶𝘳𝘢𝘨𝘦 𝘺𝘰𝘶 𝘵𝘰 𝘮𝘢𝘬𝘦 𝘵𝘩𝘦 𝘮𝘰𝘴𝘵 𝘰𝘧 𝘵𝘩𝘪𝘴 𝘵𝘦𝘳𝘮, 𝘴𝘦𝘦𝘬 𝘩𝘦𝘭𝘱 𝘸𝘩𝘦𝘯 𝘯𝘦𝘦𝘥𝘦𝘥 𝘢𝘯𝘥 𝘢𝘤𝘵𝘪𝘷𝘦𝘭𝘺 𝘦𝘯𝘨𝘢𝘨𝘦 𝘪𝘯 𝘵𝘩𝘦 𝘥𝘪𝘷𝘦𝘳𝘴𝘦 𝘳𝘢𝘯𝘨𝘦 𝘰𝘧 𝘢𝘤𝘵𝘪𝘷𝘪𝘵𝘪𝘦𝘴 𝘢𝘯𝘥 𝘰𝘱𝘱𝘰𝘳𝘵𝘶𝘯𝘪𝘵𝘪𝘦𝘴 𝘵𝘩𝘢𝘵 𝘰𝘶𝘳 𝘴𝘤𝘩𝘰𝘰𝘭 𝘰𝘧𝘧𝘦𝘳𝘴. 𝘙𝘦𝘮𝘦𝘮𝘣𝘦𝘳, 𝘦𝘷𝘦𝘳𝘺 𝘥𝘢𝘺 𝘪𝘴 𝘢 𝘤𝘩𝘢𝘯𝘤𝘦 𝘵𝘰 𝘭𝘦𝘢𝘳𝘯, 𝘨𝘳𝘰𝘸 𝘢𝘯𝘥 𝘮𝘢𝘬𝘦 𝘢 𝘱𝘰𝘴𝘪𝘵𝘪𝘷𝘦 𝘪𝘮𝘱𝘢𝘤𝘵 𝘪𝘯 𝘰𝘶𝘳 𝘴𝘤𝘩𝘰𝘰𝘭 𝘤𝘰𝘮𝘮𝘶𝘯𝘪𝘵𝘺.