The Union High School's 1st XI cricket team once again had the privilege to attend the prestigious Cape School's Cricket Week hosted by Paul Roos Gymnasium from the 29th of September until the 3rd of October 2023.
Unfortunately the first game against Paarl Gymnasium was called off due to a wet pitch and outfield. The boys then spent some time in the Paul Roos indoor centre for a practice session.
On Sunday we played our 1st match again Paarl Boy's High School. Paarl went into bat first and managed to score 143 runs after being bowled out. Special mention must be made of Shaakir Kazi who took 5 wickets. Union then went in to bat and could only managed to put 40 runs on the board. We lost the game by 103 runs
Our second game was against Parel Vallei High School from Somerset West. Union went in to bat first and set a target of 96 after getting off to a brilliant start but a continuous loss of wickets led us to not being able to put a defendable score on the board. Union managed to get five wickets before Parel Vallei eventually managed to get the score. Union lost the game by 5 wickets 
Our third and final match was against Bishops from Cape Town. Union were put in to bat first once again and only managed to score 49. Bishops passed the target with the loss of no wickets. Union lost the game by 10 wickets.
A lot of valuable lessons were learnt throughout the week. We will definitely return as a stronger team next year.
We would like to extend our heartfelt gratitude and appreciation to Grade 12 cricketers 𝗕𝗿𝗲𝗻𝘁 𝗛𝗲𝘀𝘀𝗲𝗹𝗶𝗻𝗸, 𝗝𝗼𝘀𝗵𝘂𝗮 𝗛𝗼𝗿𝗻𝗲, 𝗝𝘂𝗱𝗲 𝗟𝗮𝗻𝗴𝗺𝗲𝗮𝗱 and 𝗛𝗹𝗮𝗸𝗶 𝗦𝗸𝗲𝗽𝗲 for their outstanding dedication and contribution to cricket at our school.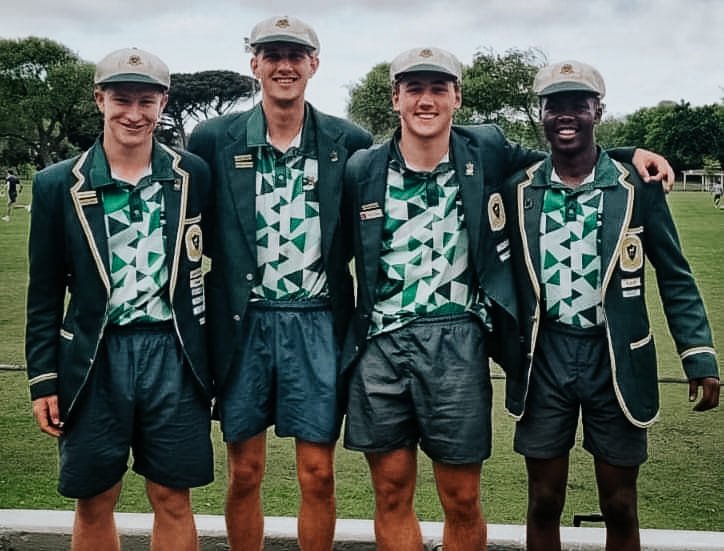 These four talented individuals took to the field for the very last time as part of Union's 1st XI at the prestigious 2023 edition of the annual Cape Schools' Cricket Festival.
𝘋𝘶𝘳𝘪𝘯𝘨 𝘵𝘩𝘦𝘪𝘳 𝘺𝘦𝘢𝘳𝘴 𝘰𝘧 𝘴𝘦𝘳𝘷𝘪𝘤𝘦 𝘢𝘯𝘥 𝘤𝘰𝘮𝘮𝘪𝘵𝘮𝘦𝘯𝘵 𝘵𝘰 𝘰𝘶𝘳 𝘴𝘤𝘩𝘰𝘰𝘭 𝘵𝘩𝘦𝘺 𝘩𝘢𝘷𝘦 𝘪𝘯𝘴𝘱𝘪𝘳𝘦𝘥 𝘵𝘩𝘦𝘪𝘳 𝘵𝘦𝘢𝘮𝘮𝘢𝘵𝘦𝘴, 𝘥𝘪𝘴𝘱𝘭𝘢𝘺𝘦𝘥 𝘦𝘹𝘤𝘦𝘱𝘵𝘪𝘰𝘯𝘢𝘭 𝘴𝘱𝘰𝘳𝘵𝘴𝘮𝘢𝘯𝘴𝘩𝘪𝘱 𝘢𝘯𝘥 𝘴𝘩𝘰𝘸𝘤𝘢𝘴𝘦𝘥 𝘵𝘩𝘦𝘪𝘳 𝘴𝘬𝘪𝘭𝘭𝘴 𝘸𝘪𝘵𝘩 𝘱𝘳𝘪𝘥𝘦 𝘢𝘯𝘥 𝘥𝘦𝘵𝘦𝘳𝘮𝘪𝘯𝘢𝘵𝘪𝘰𝘯.
We want to thank Brent, Joshua, Jude and Hlaki for the memories, the victories, and the moments of camaraderie they have gifted us during their time at Union. 𝙒𝙚 𝙖𝙧𝙚 𝙞𝙢𝙢𝙚𝙣𝙨𝙚𝙡𝙮 𝙥𝙧𝙤𝙪𝙙 𝙤𝙛 𝙩𝙝𝙚𝙢.