Union High School, Graaff-Reinet learner 𝗗𝗲𝗺𝗶 𝗞𝗿𝗲𝘁𝘇𝗺𝗮𝗻𝗻 competed in the Paardepoort Rally, the second round of the Algoa Rally Club's regional championship, on Saturday, 30 September.
Assisting her father Deon as navigator in his speedy Toyota Etios, Demi performed exceptionally well.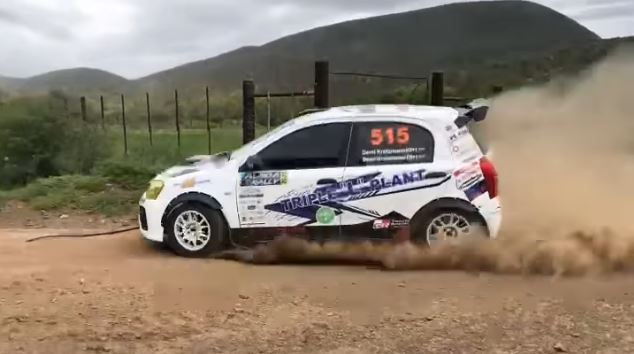 𝗧𝗵𝗲𝘆 𝗺𝗮𝗶𝗻𝘁𝗮𝗶𝗻𝗲𝗱 𝗮 𝘀𝘁𝗿𝗼𝗻𝗴 𝗽𝗮𝗰𝗲 𝘁𝗵𝗿𝗼𝘂𝗴𝗵𝗼𝘂𝘁 𝘁𝗵𝗲 𝗿𝗮𝗰𝗲, 𝗲𝗮𝗿𝗻𝗶𝗻𝗴 𝗮𝗻 𝗶𝗺𝗽𝗿𝗲𝘀𝘀𝗶𝘃𝗲 𝟰𝘁𝗵 𝗽𝗹𝗮𝗰𝗲 𝗼𝘃𝗲𝗿𝗮𝗹𝗹 𝗮𝗻𝗱 𝟯𝗿𝗱 𝗶𝗻 𝘁𝗵𝗲𝗶𝗿 𝗰𝗹𝗮𝘀𝘀.
Demi's remarkable ability to remain composed under pressure showcased her distinctive talent, leaving us immensely proud of her achievements.
𝘞𝘦 𝘦𝘯𝘷𝘪𝘴𝘪𝘰𝘯 𝘢 𝘱𝘳𝘰𝘮𝘪𝘴𝘪𝘯𝘨 𝘧𝘶𝘵𝘶𝘳𝘦 𝘧𝘰𝘳 𝘩𝘦𝘳 𝘢𝘴 𝘢 𝘴𝘬𝘪𝘭𝘭𝘦𝘥 𝘯𝘢𝘷𝘪𝘨𝘢𝘵𝘰𝘳.