𝗢𝘂𝘁𝘀𝘁𝗮𝗻𝗱𝗶𝗻𝗴 𝘆𝗼𝘂𝗻𝗴 𝘀𝗽𝗲𝗮𝗸𝗲𝗿𝘀 𝗮𝘁 𝗮𝗻𝗻𝘂𝗮𝗹 𝘀𝗽𝗲𝗲𝗰𝗵 𝗰𝗼𝗺𝗽𝗲𝘁𝗶𝘁𝗶𝗼𝗻
Union High School, Graaff-Reinet's annual Junior Speech Competition was held on Monday evening, 8 May, in the Tony Burrell Union.
𝘛𝘩𝘪𝘴 𝘺𝘦𝘢𝘳'𝘴 𝘦𝘷𝘦𝘯𝘵 𝘴𝘢𝘸 𝘵𝘦𝘯 𝘰𝘧 𝘵𝘩𝘦 𝘴𝘤𝘩𝘰𝘰𝘭'𝘴 𝘎𝘳𝘢𝘥𝘦 8𝘴, 9𝘴 𝘢𝘯𝘥 10𝘴 𝘨𝘰 𝘶𝘱 𝘢𝘨𝘢𝘪𝘯𝘴𝘵 𝘰𝘯𝘦 𝘢𝘯𝘰𝘵𝘩𝘦𝘳 𝘪𝘯 𝘢𝘯 𝘦𝘷𝘦𝘯𝘪𝘯𝘨 𝘧𝘪𝘭𝘭𝘦𝘥 𝘸𝘪𝘵𝘩 𝘵𝘩𝘰𝘶𝘨𝘩𝘵-𝘱𝘳𝘰𝘷𝘰𝘬𝘪𝘯𝘨 𝘴𝘱𝘦𝘦𝘤𝘩𝘦𝘴 𝘣𝘢𝘴𝘦𝘥 𝘰𝘯 𝘌𝘯𝘨𝘭𝘪𝘴𝘩 𝘪𝘥𝘪𝘰𝘮𝘴.
Congratulations to all those who participated. They are: Amber Slater, Kazimla Mbalawa, Ben Lemke, Jamae-Mari Davids, Athayanda Mahlati, Bhukobenkosi Nomatye, Erin Gedult, Sinegugu Ntenteni, Cruz Pather and Someleze Ntshuca.
With speeches ranging from humorous to emotional, intellectual and serious, all who attended were captivated by the speakers and very impressed by the high quality of speeches and the obvious preparation that had gone into the evening.
𝙐𝙣𝙞𝙤𝙣 𝙬𝙤𝙪𝙡𝙙 𝙡𝙞𝙠𝙚 𝙩𝙤 𝙩𝙝𝙖𝙣𝙠 𝙖𝙡𝙡 𝙩𝙝𝙚 𝙥𝙖𝙧𝙩𝙞𝙘𝙞𝙥𝙖𝙣𝙩𝙨 𝙞𝙣𝙫𝙤𝙡𝙫𝙚𝙙 – it was pleasing to see so many enthusiastic learners presenting their speeches.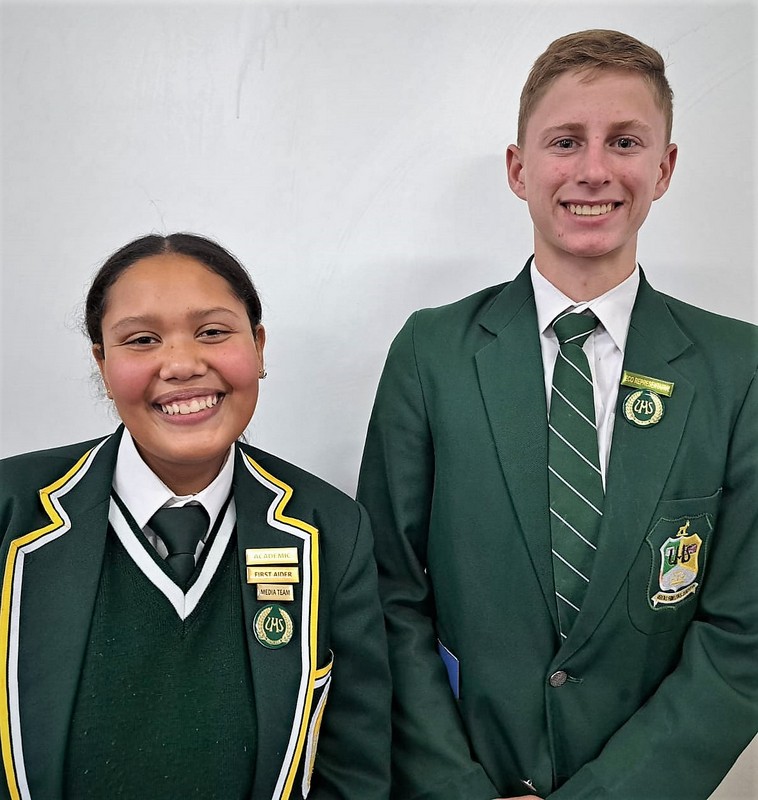 Congratulations to 𝗘𝗿𝗶𝗻 𝗚𝗲𝗱𝘂𝗹𝘁 (Grade 10) and 𝗕𝗲𝗻 𝗟𝗲𝗺𝗸𝗲 (Grade 9) who – based on their performance – were selected to represent the school at this year's Interschools' speech competition later this year.