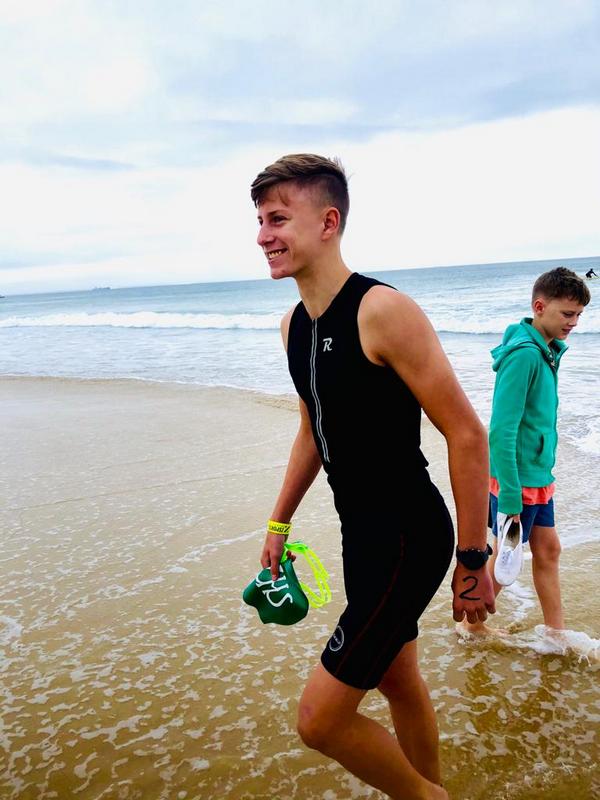 𝗪𝗘𝗟𝗟 𝗗𝗢𝗡𝗘 to Union High School, Graaff-Reinet learner 𝗕𝗲𝗻 𝗟𝗲𝗺𝗸𝗲, who completed his very first triathlon successfully this past weekend.
Hosted in Gqbergha on Saturday, 14 January, the Nelson Mandela Bay Triathlon Championships saw Ben compete in the Youth Category, which entails a 350m sea swim, a 10km cycle, and finally, a 2.5km run (sprint!).
𝘍𝘰𝘳 𝘵𝘩𝘰𝘴𝘦 𝘶𝘯𝘧𝘢𝘮𝘪𝘭𝘪𝘢𝘳 𝘸𝘪𝘵𝘩 𝘵𝘩𝘦 𝘴𝘱𝘰𝘳𝘵 – 𝘢 𝘵𝘳𝘪𝘢𝘵𝘩𝘭𝘰𝘯 𝘪𝘴 𝘢 𝘵𝘳𝘶𝘭𝘺 𝘨𝘳𝘶𝘦𝘭𝘭𝘪𝘯𝘨 𝘦𝘷𝘦𝘯𝘵 𝘢𝘴 𝘵𝘩𝘦𝘳𝘦 𝘪𝘴 𝘯𝘰 𝘣𝘳𝘦𝘢𝘬 𝘪𝘯-𝘣𝘦𝘵𝘸𝘦𝘦𝘯 𝘵𝘩𝘦 𝘵𝘩𝘳𝘦𝘦 𝘥𝘪𝘴𝘤𝘪𝘱𝘭𝘪𝘯𝘦𝘴, 𝘰𝘵𝘩𝘦𝘳 𝘵𝘩𝘢𝘯 𝘢 𝘲𝘶𝘪𝘤𝘬 𝘵𝘳𝘢𝘯𝘴𝘪𝘵𝘪𝘰𝘯 𝘵𝘰 𝘤𝘩𝘢𝘯𝘨𝘦 𝘤𝘭𝘰𝘵𝘩𝘦𝘴 𝘢𝘯𝘥 𝘴𝘩𝘰𝘦𝘴. 𝘐𝘵'𝘴 𝘢 𝘫𝘶𝘨𝘨𝘭𝘪𝘯𝘨 𝘢𝘤𝘵 𝘢𝘯𝘥 𝘰𝘯𝘦 𝘸𝘩𝘪𝘤𝘩 𝘉𝘦𝘯 𝘪𝘴 𝘯𝘰𝘵 𝘢𝘭𝘵𝘰𝘨𝘦𝘵𝘩𝘦𝘳 𝘧𝘢𝘮𝘪𝘭𝘪𝘢𝘳 𝘸𝘪𝘵𝘩, 𝘣𝘶𝘵 𝘪𝘵 𝘥𝘪𝘥𝘯'𝘵 𝘥𝘢𝘮𝘱𝘦𝘯 𝘩𝘪𝘴 𝘦𝘯𝘵𝘩𝘶𝘴𝘪𝘢𝘴𝘮 𝘧𝘰𝘳 𝘵𝘩𝘦 𝘴𝘱𝘰𝘳𝘵.
Afterwards he claimed to find the sea-swim 'exhilarating' and his body 'exhausted', but he would definitely do it again!
𝗧𝗵𝗲 𝗳𝗶𝗻𝗮𝗹 𝗿𝗲𝘀𝘂𝗹𝘁 𝘀𝗮𝘄 𝗕𝗲𝗻 𝗰𝗹𝗮𝗶𝗺𝗶𝗻𝗴 𝘀𝗲𝗰𝗼𝗻𝗱 𝗽𝗹𝗮𝗰𝗲 𝗶𝗻 𝗵𝗶𝘀 𝗮𝗴𝗲 𝗰𝗮𝘁𝗲𝗴𝗼𝗿𝘆 (𝟭𝟮-𝟭𝟱𝘆𝗿𝘀).
Well done, Ben! We are super proud of you